El Dorado Hills Woman Allegedly Abused by Priest Hails Pope's Resignation
By Dave Marquis
News 10
February 12, 2013

http://www.news10.net/news/article/229926/2/Woman-allegedly-abused-by-priest-hails-Popes-resignation

[with video]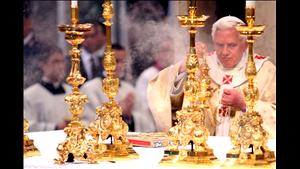 Pope Benedict XVI - Mass of the Last Supper 2011



Teresa Rosson claims she faced abuse by her parish priest that might have stopped years sooner had then-Cardinal Joseph Ratzinger acted earlier.

"He'd tell you scary stories, you know, so he could touch you," recalled Rosson, who said her parish priest, Fr. Stephen Kiesle, began sexually abusing her at age 11 in 1972.

"He would touch my thigh, move his hand up," Rosson said of the abuse, which she claims began when Kiesle started a relationship with her mother.

In 1981, Oakland Bishop John Cummins wrote several letters to Rome asking that Father Stephen Kiesle be tossed out of the priesthood over allegations of sexual abuse of both boys and girls.

It was four years before then-Cardinal Ratzinger wrote back, delaying action in the case. Kiesle was eventually defrocked in 1987.

The Catholic Church has settled numerous civil suits against Kiesle and the former priest eventually served six years for abusing a girl at his second home in Truckee.

Had Ratzinger acted sooner, Rosson believes she might have avoided years of abuse that lasted into adulthood as she stayed in denial about it.

"How could adults push this under the rug," Rosson asked as she teared up at her El Dorado Hills home Monday. "These were children of God, you know?"

She said most of the abuse she faced consisted of Kiesle touching her outside her clothes, but sometimes grew worse, as in the time he told her he would teach her how to kiss when she was a teenager.

"And he French kissed me and put his tongue in my mouth," Rosson recalled.

The Pope's defenders said he became increasingly concerned about abuse by priests in the years he served as a Cardinal.

Vatican spokesman, the Reverend Federico Lombardi, said the Pope's actions should not be judged from one letter in an ongoing investigation.

"It's evident that it's not an in-depth and serious use of documents," Lombardi told the New York Times.

Rosson said she has spent years in therapy and has suffered major depression from the trauma she said she suffered at Kiesle's hands.

She believes the Pope's resignation is another step in her recovery.

"I can only speak for myself," she said, "This is closure. It's the beginning of some closure."