The Mahony "case" Casts a Shadow over the Conclave
By Maria Teresa Pontara Pederiva
Vatican Insider
February 18, 2013

http://vaticaninsider.lastampa.it/en/world-news/detail/articolo/roger-m-mahony-stati-uniti-estados-unidos-united-states-vaticano-vatican-22456/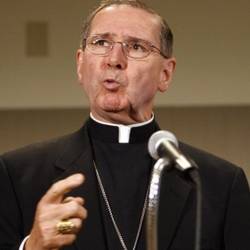 Cardinal Roger M. Mahony



Is it ethical for someone whose image has been tainted by the paedophilia scandal to take part in the next Conclave? It seems right to at least ask the question: California in particular and the U.S. in general have certainly been doing so over the past few days, as cardinals hurry to book their flights to Rome.

One of them is the 76 year old archbishop emeritus of Los Angeles, Roger M. Mahony, who was "relieved of all public duties" by his successor, Mgr. Jose H. Gomez, last 31 January, as announced by the Los Angeles Times.

The files the current pastor of the Diocese of California had to examine and which were the focus of a five year court case handled by the Superior Court of Los Angeles (Judge Emilie Elias) leave no room for doubt. The Church, led by Mahony (from 1985 to 2011) had fought for years to conceal reported sex-abuse cases, in particular reports against Fr. Nicolas Aguilar Riveira (accused of molesting 29 minors during a nine-month stay in the archdiocese) who eventually fled to Mexico.

Archbishop Gomez's decision was a painful one to take and he explained it in a letter to faithful and the clergy: "There is no excuse, no explaining away what happened to these children. The priests involved had the duty to be their spiritual fathers and they failed." Six hundred thousand dollars in compensation were paid out to victims.

A similar fate to Cardinal Mahony's (he is due in court on 23 February and has so far denied all responsibility, even going as far as to publicly complain about the humiliation he suffered) was met by the vicar for clergy, Thomas Curry, who resigned from his post as Auxiliary Bishop of Santa Barbara (both of them had come up with a series of strategies to prevent police interference):they were still allowed to celebrate mass but not to read out homilies or speak in public. This provision which had "immediate effect" was an unprecedented case in the U.S., partly because it involved a bishop punishing two fellow bishops, one of whom was even a cardinal.

Only the Pope had the power to go further and reduce them to the lay state or at least remove them from their posts (as happened last year with Australian bishop, William Morris, who was removed because of his heterodox ideas.)

But after the sacking, SNAP's David Clohessy said that was enough for representatives of paedophilia victims' associations: it was a small step in the right direction.

Now that a new and unexpected Conclave is coming up, things are getting complicated and protests are flaring up: this is not what the U.S. expects of the Roman Catholic Church but not one in America can do anything about it, even if the President of the U.S. Bishops' Conference, Cardinal Dolan, has received requests to do something about it in the Vatican.

In other words, the Pope, who has already done so much to combat the sex-abuse plague, is being asked to make one final courageous gesture: to strip Mahony of his title of "Cardinal" and forbid him to vote in the Conclave that will elect Benedict XVI's successor.

This is not the first case of its kind but the outcome of the previous case was opposite to that expected: In 2005 demonstrators gathered in St. Peter's Square asking for Cardinal Bernard Law to be barred from entering. Cardinal Law resigned from Boston after being accused of covering up sex-abuse cases, but still took part in the Conclave that elected Benedict XVI to the papacy.

Meanwhile, in Ireland, questions are being asked about Cardinal Sean Brady who has been included in the list of cardinal electors despite resigning as president of the Irish Bishops' Conference. The paedophilia case has not been shelved yet and is going to add to the new Pope's already full plate.