Hawaii Lawsuit Accuses Catholic Priests of Sexual Abuse
By Jenna Blakely
Pacific Business News
February 22, 2013

http://www.bizjournals.com/pacific/news/2013/02/21/hawaii-lawsuit-accuses-catholic.html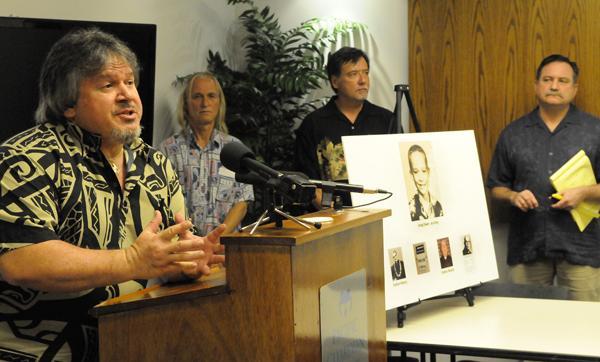 Attorney Randall Rosenberg, left, speaks to the media about a lawsuit filed by six Hawaii men against the Roman Catholic Diocese of Honolulu and several religious orders, claiming they were sexually abused by five priests and one teacher years ago, as plaintiff Greg Owen, attorney Charles McKay and attorney Leander "Lee" James look on.



Six Hawaii men are suing the Roman Catholic Diocese of Honolulu and several religious orders, claiming they were sexually abused by five priests and one teacher years ago.

One of the men, Greg Owen, a Big Island farmer, appeared at a news conference Thursday arranged by Honolulu law firm Rosenberg & McKay, which filed the lawsuit in First Circuit Court. The other five plaintiffs were not identified.

Other defendants named in the lawsuit are the Maryknoll Fathers and Brothers, the Congregation of Christian Brothers of Hawaii Inc., and the Congregation of the Sacred Hearts of Jesus and Mary, dba The Fathers and Brothers of the Sacred Hearts of Jesus and Mary.

Patrick Downes, a spokesman for the diocese, declined comment on the lawsuit, which alleges abuse dating back to the 1950s, 1960s and 1970s.

Attorneys Charles McKay and Randall Rosenberg described the lawsuit as a collective action case.

"A collective action case allows other abuse survivors to join their claims with these survivors so they can be pursued more efficiently and effectively," Rosenberg said. "As other survivors come forward we will seek to include them in the lawsuit as well."

The lawsuit seeks what the attorneys described as "equitable relief, as well as unspecified compensatory and punitive damages."

In terms of equitable relief, it is asking the diocese, Bishop Larry Silva and the Maryknoll Fathers to take a series of steps, including listing abusers' names on their websites, stopping the practice of shifting alleged abusers from parish to parish, meeting with victims at their request, and drafting letters of apology.

The lawsuit names several local schools in which the abuses allegedly took place. However, the schools are not listed as defendants.

At the Thursday news conference, Owen described being sexually abused as a youngster by two priests, both of whom have since died.

Now 62 years old, Owen said he was about 8 or 9 years old when the abuse occurred and he was too afraid to speak out at the time. He said he has struggled with alcohol and personal relationships throughout his life, which he attributes to the abuse.

The Rosenberg & McKay law firm has teamed up with two Mainland-based law firms that have dealt with similar litigation.

Attorney Leander "Lee" James of James, Vernon and Weeks PA, a law firm with offices in Seattle and Idaho, specializes in cases involving sexual abuse. He was a principal attorney in the $166.1 million settlement with the Northwest Jesuits involving more than 524 claims of child sexual abuse spanning three decades in five states.

"The sex abuse crisis is real," James said. "The question becomes, how do we get out ... how do we move forward?"

The answer, he said, involves seeking justice in three ways for sex abuse victims: institutional change, acknowledgement of institutional harm and respect and reparations for victims.

A 10-month-old state law, Act 68, extends until April 2014 the period of time that victims of past abuse can seek legal action. It extends the time period to file suit to eight years from when the victim turned 18 or to three years after the victim has realized he or she has been injured from the sexual offense. The previous law allowed only two years for each of the scenarios.

Attempts to immediately reach the other defendants were unsuccessful.