Cardinal Roger Mahony Gives Deposition in Lawsuit of Priest Who Allegedly Molested 26 Children
By Mariecar Mendoza
LA Daily News
February 24, 2013

http://www.dailynews.com/news/ci_22656093/cardinal-roger-mahony-gives-deposition-lawsuit-priest-who

[Photos: Catholics United Petition Cardinal Mahony]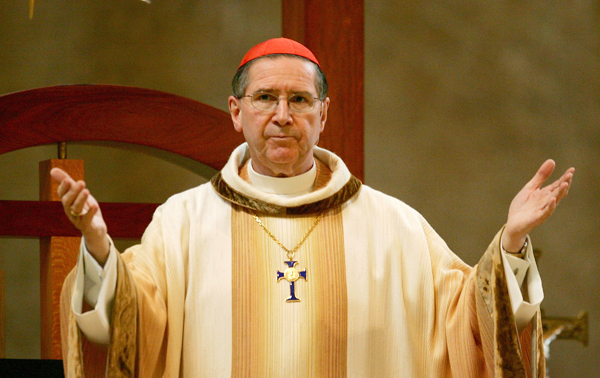 Cardinal Roger Michael Mahony celebrates noon Mass at the Cathedral of Our Lady of the Angels on Feb. 2, 2005 in Los Angeles, Calif. (David McNew/Getty Images)



Shortly before he heads to Rome to help elect the next pope, Cardinal Roger Mahony gave a closed-door deposition on Saturday in a lawsuit over a priest suspected of molesting as many as 26 children in Los Angeles in the late 1980s.

Mahony was required to give the deposition regarding Father Nicholas Aguilar Rivera, who fled the country in 1988 as he was being investigated on multiple charges of sexual abuse.

Aguilar Rivera remains a fugitive in Mexico.

Attorney Anthony De Marco is suing the Archdiocese of Los Angeles on behalf of one of Aguilar Rivera's alleged victims.

De Marco said in a brief email afterward that the deposition "went well," but declined to comment further about it due to court orders.

Archdiocese officials did not return calls for comment Saturday.

Mahony, who retired as Los Angeles archbishop in 2011, has faced criticism for years over his handling of sex abuse allegations in the 1980s and 1990s.

Files released recently as part of DeMarco's lawsuit detailed to a new level the extent to which Mahony played a role in protecting priests accused of abuse, reassigning them to different parishes or sending them out of the country, but not turning over their cases to authorities.

As the extent of Mahony's actions became evident, last month Archbishop Jose Gomez stripped his predecessor of his remaining public duties on behalf of the Archdiocese, primarily public speaking. Still, Mahony remains a priest in good standing and one of the members of the College of Cardinals who will elect the next pope.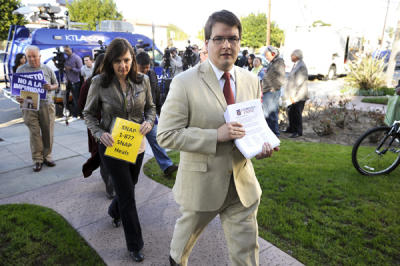 Chris Pumpelly of Catholics United carries petitions to St. Charles Borromeo Church in North Hollywood on Saturday, Feb. 23, 2013, asking Cardinal Roger Mahony to recuse himself from the papal conclave in Rome. (Michael Owen Baker/Staff Photographer)



Pope Benedict XVI's resignation is set for Feb. 28. The pope cited health reasons for stepping down. The election of his successor is expected by March 15 or earlier.

More than a dozen victims and their family members joined Catholics United and Survivors Network of those Abused by Priests on Saturday to protest Mahony's involvement in the papal conclave. The group gathered in front of St. Charles Borromeo Church in North Hollywood where Mahony is a Cardinal in Residence.

"Here's a man who is being deposed for covering up child sexual abuse and then less than 24 hours getting on a plane, flying to Rome and acting like a prince of the church. He is not a prince of the church," said Joelle Casteix, spokeswoman for SNAP and a victim of abuse by a priest. "Anyone who covers up child sexual abuse should be held accountable to God and the fullest extent of the law."

Casteix said the the inclusion of Mahony in choosing the next pope shows a "complete disrespect to the victims and Catholics."

"It's simply inappropriate for him to have anything to do with the conclave. Mahony is not going to vote for a reformer who will get child molesters and enablers out of the church," Casteix said. "He's going to vote for a pope who will protect the status quo and, as we've seen, the status quo is a very dangerous thing."

To that end, SNAP and Catholics United delivered a petition with 10,000 signatures to the cardinal's office on Saturday calling for Mahony to recuse himself from the upcoming papal conclave.

"If we can get rid of one cardinal from the conclave who is going to protect the status quo, maybe it will switch the votes in the right direction to elect a pope who will actually work to protect children," Casteix said.

Catholics United spokesman Chris Pumpelly also emphasized that while there has been much scrutiny of Mahony and pressure on him to stay out of the papal appointment process, the group hopes other Catholic Church leaders hear the message, too.

"There are other leaders of the church who have done similar things and have skirted justice, so we hope that if they have that kind of scandal on their conscience they recognize that it's not OK to cover it up," he said.

Manny Vega of Oxnard, a retired police officer, said he was supposed to take part in the deposition because he's a private investigator and assisted in the investigation of Aguilar Rivera. Vega, however, was told not show up at the deposition because he is considered "an enemy of the Cardinal."

Vega said he was molested by a priest for five years when he was 10.

"My respect for the hierarchy is certainly lacking, but I still consider myself a good Catholic. In fact, I consider myself a better Catholic than Roger Mahony. Roger Mahony decided to pick up the cross as a shield; but that cross fell on top of me. I didn't ask for any of this," Vega said.

Mahony could not be reached for comment Saturday. But in recent days, he has actively posted on his blog and Twitter feed on his excitement about heading to Rome to select the next pontiff.

"Just a few short hours before my departure for Rome," Mahony tweeted Friday afternoon. "Will be tweeting often from Rome, except during the actual Conclave itself. Prayers!"

He also wrote a blog entry on Feb. 20 titled "Carrying a Scandal Biblically" that discussed how he has been dealing with "this terrible sinfulness which has overwhelmed all of us in the Church."

In his 555-word post, he said the disciples of Jesus "are called to carry and live out a terrible scandal day by day" and went on to say he has accepted "being scapegoated" in the scandal.

"We're hoping that Mahony considers all of this before he hops on that plane," said Pumpelly of the group's plea. "There's still time for him to say, `I respect the victims and honor the needs of the church."'

Contact: mariecar.mendoza@dailynews.com

818-713-3623