Tod Brown's Perpetual Pedo-Priest Parade!
By Gustavo Arellano
Orange County Weekly
February 28, 2013

http://www.ocweekly.com/2013-02-28/news/eleuterio-ramos-diocese-of-orange-tod-brown/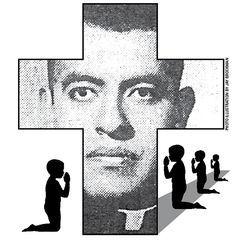 Photo illustration by Jay Brockman


Eleuterio Ramos



Documents released by the Archdiocese of Los Angeles shows again how the Orange diocese is still not telling the full story of its sex-abuse scandal

Over the past month, Southern Californians have largely turned their backs in communal revulsion at former Archdiocese of Los Angeles Cardinal Roger Mahony. The outcry emerged after a judge forced the archdiocese to release tens of thousands of pages of once-secret priestly personnel files that told in exacting detail how Mahony and his cronies tried to shield pedophile priests from the law during his career. Because of his inactions, Mahony is now largely exiled from church life, his name forever tainted in any future analyses of his career.

Of course, the vile revelations are nothing new to longtime watchers of the Catholic Church—indeed, some of the breathless tales heralded by major media outlets as exclusives have circulated in the Catholic and alternative press for more than a decade. But the episode at least shows that members of the public will attack the church hierarchy once damning evidence is shoved in their faces. So there's hope that another major Catholic figure will emerge with his reputation in further tatters after the LA document dump: former Diocese of Orange Bishop Tod D. Brown.

He retired quietly late last year per Vatican rules requiring bishops to step down at age 75, and successor Kevin W. Vann has gamely tried to have OC's 1.2 million Catholics remember Brown for his last-minute purchase of the former Crystal Cathedral (to be renamed Christ Cathedral) in 2011 instead of the $100 million-plus in sex-abuse settlements Brown had to sign off on during his term. But while the LA Archdiocese published almost all of its pedo-priests files on its website (it took a judge to do this, but still), it's more than Brown ever did. When asked in 2005 if he'd publicly publish Diocese of Orange pedo-priests files that a judge forced him to hand over to lawyers, Brown flat-out refused and didn't bother giving a reason for the secrecy.

I'm sure Brown isn't too happy with the LA archdiocese's imperfect move toward transparency, either. Those files reveal that during Brown's regime, the Orange diocese learned of multiple cases of pedophile priests who terrorized children in county pews—and Brown never told parishioners.

Technically, he didn't have to. The local revelations unearthed in the LA archdiocese files dealt with pedo-priests back when the Archdiocese of Los Angeles had jurisdiction over Orange County (the Orange diocese wouldn't be created until 1976), which meant that Brown didn't have responsibility in the new cases. But this strict interpretation of canon law proves again how calculating and heartless His Excellency was. For Brown, it was never about making OC churches safe from pedo-priests or seeking justice; it was all about maintaining his reputation.

The revelations in the docu-dump won't be fully known for weeks, as sex-abuse survivors and their lawyers sift through mountains of pages. But the new pedo-protector evidence is already piling up against Brown and his hierarchy. We now know, for instance, that Orange officials ignored the suggestion by LA archdiocesan officials that they remove from ministry John Coffield, a legendary priest among county Latinos, after they received a "credible" allegation that Mahony eventually settled. We now also know that family members of children abused by Michael Buckley—who ministered at Immaculate Heart of Mary in Santa Ana in the 1970s before leaving for Los Angeles—had brought him "to the attention of the three bishops in Orange [County] over the years," according to notes in Buckley's files, but that Orange diocese leaders never helped on the matter. And we now also know about Lynn Caffoe, one of Los Angeles' most notorious pedophile priests who started his raping career at St. Callistus in Garden Grove during the 1970s. In 2002, the Orange diocese received an anonymous call from someone claiming Caffoe had abused him while at St. Callistus, at a time when pedo-priests were in the national spotlight because of the Archdiocese of Boston sex-abuse scandal.

Did Brown reveal any of these cases upon discovering them, or include the names of Coffield, Buckley or Caffoe on any of the lists of Orange diocese pedo-priests he published to much self-congratulation in 2003 and 2004? Nope.

Other pedo-priests who ministered in Orange County were revealed for the first time in the Los Angeles documents, among them William Hollinger (who served at Our Lady of Fatima in San Clemente during the 1960s) and Wallace J. Daley, who spent most of his career with the Orange diocese in Baja California, with random stints at Our Lady of Guadalupe in Santa Ana's Delhi barrio, Mission San Juan Capistrano and Costa Mesa's St. Joachim. But the worst case, unsurprisingly, involves a priest familiar to readers of the Weekly: Eleuterio Ramos, the most notorious pedo-priest in the history of the Orange diocese. More sex-abuse lawsuits have been settled against Ramos—whom diocesan officials moved across Orange County parishes during the 1970s and 1980s for his raping ways—than anyone else, but the biggest mystery surrounding Ramos involved his last stop: Tijuana, where church officials dumped him in the mid-1980s after he admitted to molesting a boy while at St. Anthony Claret in Anaheim.

The Orange diocese's voluminous personnel files on Ramos (more than 1,000 pages) makes no mention of any victims based down there (although those files did reveal Ramos liked to take OC children to Tijuana to get gang-raped), and of the dozens of people who filed lawsuits against Ramos and the diocese of Orange and Los Angeles (where Ramos previously served), not one ever alleged he or she was from Ramos' Tijuana parish. But LA archdiocese records unearthed for the first time a Ramos victim from down there.

In Ramos' LA file is a 2004 memorandum from the Diocese of San Bernardino that details a meeting church leaders had with a man who claimed Ramos had molested him at a cabin in Crestline. The victim (whose name is redacted in the document) said he first encountered Ramos at Divina Providencia Parish and Our Lady of Loreto chapel in Tijuana, where Ramos headed—I kid you not—a children's ministry. Starting in 1985 and continuing until the boy's family moved to San Bernardino, Ramos molested the child repeatedly—at Crestline, at hotels near Disneyland, in Los Angeles and in Tijuana itself. In 2003, when stories about Ramos' depravity first hit Southern California newspapers, the victim's family asked him if Ramos—who was a "good family friend"—had ever molested him; the victim denied it. The victim didn't want to tell his family because he was, according to the notes of the meeting, "fearful of his mother's reaction to his abuse since he recalls that his mother would frequently encourage her son to take private overnight trips with Father Ramos [e.g., the Crestline, Disneyland and Universal Studios trips]."

San Bernardino diocese officials promised the victim they'd report his abuse at the hands of Ramos to the police, but no record exists of this. And there has definitely never been any effort by the Orange diocese to alert parishioners in Orange County, let alone Divina Providencia and Our Lady of Loreto, about Ramos' past, or that they dumped Ramos there because he was a kiddie diddler. Chillingly, Ramos' Tijuana victim asked San Bernardino officials a simple question neither they nor Orange officials ever answered: "Was Father Ramos transferred to Tijuana because of his past abusive history in the [Orange diocese]?"

Heckuva job, Brownie!