Pedophile Priest Conducted Mass at Local Church
By Colin Stutz
Los Feliz Ledger
February 28, 2013

http://www.losfelizledger.com/2013/02/pedophile-priest-conducted-mass-at-local-church/

[James Ford - Los Angeles archdiocese]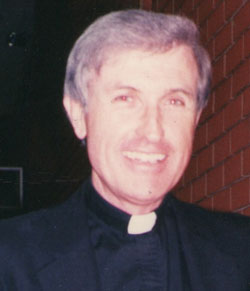 Father James Ford



LOS FELIZ—For two months in 2010, Our Mother of Good Counsel Catholic Church on Vermont Avenue had Rev. James Ford—who had previously been involved at least one sexual abuse case of a minor—conduct mass at the parish.

According to OMGC's Father James Mott, Ford was dispatched to OMGC by the Los Angeles Archdiocese. Mott said he was unaware of Ford's history.

Ford was listed as a priest who had sexually abused a minor, from 1968 to 1971, at Holy Family Catholic Church in Orange, in a 2004 report released by the Los Angles Archdiocese titled "Report to the People of God: Clergy Sexual Abuse."

More details of Ford's abuse, some 340 pages—and the possible cover-up by the Archdiocese—were released on the Archdiocese's website Jan. 31st. A total of 12,000 pages in all were posted, the result of a court order, detailing 128 priests that have been accused of molestation of minors.

The Archdiocese, and specifically the recently retired Archbishop Roger Mahony continue to be under investigation about how they did not report such crimes to authorities and instead, moved abusive priests to treatment centers and from one parish to another.

In Ford's file, there is documentation of the Archdiocese's investigation into Ford's assignment to Holy Family Church from 1966 to 1971 and molestation allegations against him involving an alter boy. The victim, who was 14 when the sexual abuse started in 1968, sued the church in 2003 and eventually received a settlement totaling $1.1 million. The victim, Dallas, TX based Matt Stevens, said he has discovered 19 other individuals who told him they had been molested by Ford.

Various other allegations in Ford's file include "inappropriate touching" of male students throughout his career, an affair with a former seminary student who died of AIDS and sexual relations with other adult men and seminarians.

In 2005 Ford retired as pastor of San Roque Church in Santa Barbara where he had served for more than a decade.

"I was so dismayed when Ford was allowed to stay in a pastor role and work at San Roque," Stevens said in an interview.

Though Ford did not join another parish that was not the end of his career. Five years later, from April to May, 2010, Ford served as a back-up priest assigned by the Archdiocese for weekend masses at OMGC. OMGC additionally has a kindergarten through 8th grade school on its premises.

According to OMGC's pastor, Mott, while Ford served at OMGC, he had no contact with children and parish administrators, did not know of previous incidents regarding Ford and sexual abuse.

The OMGC's office manager Mary Hickey confirmed the parish's ignorance and said Ford "drove in and drove out" for the masses he performed.

Ford died in 2011 at the age of 71.

The Archdiocese of Los Angeles did not return requests for comment.