Catholic Priest Convicted of Molesting Boy, 14
By J. David McSwane
The Herald-Tribune
March 1, 2013

http://www.heraldtribune.com/article/20130301/ARTICLE/130309963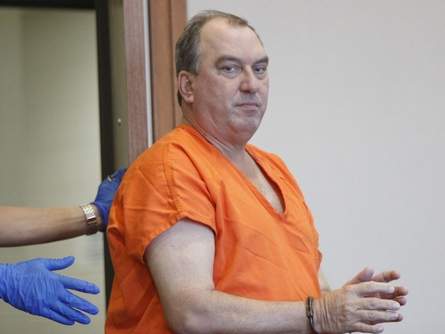 Catholic priest William C. Wert, 56, was convicted of molesting a teenage boy.



SARASOTA - A Catholic priest could face up to life in prison after a jury found him guilty Friday of eight counts of illegal sexual activity with a teenage boy.

William C. Wert, now 56, had a recurring sexual relationship with a 14-year-old Nokomis boy in which the two exchanged explicit text messages that became key pieces of evidence for the prosecution.

"What was interesting of course was that we had the text message back-and-forth which showed kind of the context of the relationship," said Assistant State Attorney Dawn Buff, who prosecuted the case before Circuit Court Judge Frederick Mercurio.

"You see how he's wooing him and how he's engaging this child in a relationship."

Wert had been in jail without bail since his arrest in February 2011 and will face a minimum sentence of 37 years in prison with a maximum of life in prison.

Wert lived in a Carmelite Catholic Order property in Venice, but his affiliation with the church was kept from jurors, whose deliberation ended Friday afternoon after a four-day trial.

The family of the victim sued the Order of the Carmelites, claiming the Catholic order was aware of Father Wert's past conviction for touching a 14-year-old boy on the inner thigh, but still allowed him to move to the Carmelites' home in Venice.

The church agreed to pay the family $1.75 million before the case could go to trial.

In this week's criminal trial, prosecutors and detectives were able to prove that Wert and the teenager met on an online chat room and then engaged in sexual acts at various locations — including Wert's Venice home, an empty house, a wooded area and a motel room — from September 2010 to January 2011.

Much of the prosecution relied on testimony from the victim, whose rendezvous with Wert were chronicled in cellular text messages, Facebook messages and text conversations retrieved from Skype, the popular online video chat service.

"Some of which were explicit about things that they wanted to do to each other," Buff said, "there was some communication about why don't we meet, when can we meet?"

There were originally 11 charges filed against Wert, two of which were dropped, and one of which the jury found the defendant not guilty.

The Diocese of Venice has previously said Wert is not affiliated with the diocese and did not perform public ministry.

A sentencing hearing is scheduled for May 16.