Sexual Misconduct Allegations Made against Upstate Catholic Priest
The Wspa
March 10, 2013

http://www2.wspa.com/news/2013/mar/10/sexual-misconduct-allegations-made-against-upstate-ar-5768814/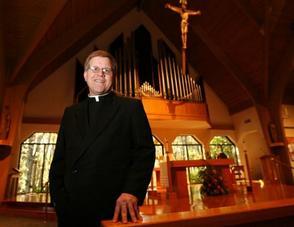 Photo in 2009 taken by Anderson Independent



On Friday a man who was representing the catholic church approached an investigator at the Greenwood County Sheriff's Office. He told investigators that a sexual incident involving a minor occurred years ago at Our Lady of Lourdes with Father Hayden Vaverek. Deputies say the victim now lives out of state and had someone from the catholic church meet with the Sheriff's Office to make a report.

The Dioceses of Charleston tells 7 On Your Side that an allegation of sexual misconduct of a minor dating back more than 15 years has been made against Father Hayden Vaverek. As diocesan policy he has been put on administrative leave and his priestly faculties withdrawn.

According to Dioceses of Charleston, "The reported allegation indicates the alleged misconduct occurred while Father Vaverek was pastor at Our Lady of Lourdes in Greenwood; however, no parishioners of that parish were involved in the reported allegation."

Greenwood County Deputies tell us that Father Vaverek is in Rome, so they have not been able to interview him.

The Diocese of Charleston say they encourage all victims and those who have knowledge of any sexual misconduct to contact their local authorities.