Former Priest Sex Abuse Victims React to New Pope
By Kareem Elgazzar
WCPO
March 14, 2013

http://www.wcpo.com/dpp/news/local_news/sex-abuse-victims-react-to-papal-conclave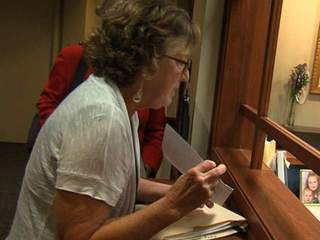 Copyright 2013 Scripps Media, Inc. All rights reserved. This material may not be published, broadcast, rewritten, or redistributed.



Judy Jones was glued to television reports Wednesday when white smoke began billowing out of the Sistine Chapel, signaling the election of a new pope.

"Oh me, oh my. A new Pope,'' said Jones, who is Midwest Associate Director of the Survivors Network of those Abused by Priests [SNAP]. "I really have mixed feelings. There is hope but this whole process brings back all the pain for sex abuse survivors."

Jones, who lives in St. Louis, said SNAP has a list of actions they want the new pope to address in his next 100 days.

Jones, whose brother was abused by a priest in Ohio, joins the majority of American Catholics who disapprove of how the church has handled the issue of sexual abuse. An ABC News/Washington Post poll found 78 percent of American Catholics disapprove of how the church has dealt with the scandal.

Many have said the next pontiff of the Roman Catholic Church must address the sex abuse scandal squarely and said former Pope Benedict XVI did not do enough to address the issue.

Local victims called upon the new pope to adopt a more transparent and accountable approach.

"The thing that drives that 78 percent number is that there is no accountability," said Dan Frondorf, a sexual abuse survivor and Cincinnati chapter leader of SNAP. "I'd like to see the new pope do some house cleaning."

The conclave selected the new pope -- Cardinal Jorge Maria Bergoglio of Argentina whose chose the name Pope Francis -- just a day after the Roman Catholic Archdiocese of Los Angeles said it agreed to pay $10 million to settle four clergy sex abuse claims.

"Words don't count anymore,'' Jones said in a telephone interview. "We need to see action from the new pope. Our biggest hope is that statute of limitations will be removed and let victims have their day in court – regardless of who their perpetrator is."

Frondorf accused one-time Elder High School principal Lawrence Strittmatter of sexual abuse in a 1983 incident. No criminal charges were filed against Strittmatter, who was stripped of his priesthood.

"(The church) keeps telling the whole world this problem is over," Frondorf said. "They think it's over, and they seem to have forgotten. They got to do more for people who were hurt."

As Frondorf watched the conclave gather and the proceedings unfold, he said he saw an absence of emotion.

"I don't know how I feel," he said. "I see people treating them like deities, and kissing their hands and acting as if they are heavenly. It's like a car wreck, I can't help but watch and it's sad."

The Church has paid more than $1.8 billion in settlements in the United States, according to the United States Conference of Catholic Bishops.

Locally, a total of 49 clergymen in Cincinnati and Northern Kentucky have either been accused, convicted or sued, or have settled, in the sexual abuse scandal, according to the database BishopAccountability.org .

In 2005, the Archdiocese of Covington established a record-breaking $120 million fund to settle a class-action lawsuit related to sexual abuse by priests. It remains one of the largest funds in the country.

In 2003, the Archdiocese of Cincinnati contributed $3 million to compensate the victims of child abuse by any archdiocesan representative.

That same year, former Hamilton County Common Pleas Court Judge Richard Niehaus, a Catholic, found the Archdiocese of Cincinnati guilty of five misdemeanor counts of failing to report sexual abuse. In that case, former Archbishop Daniel E. Pilarczyk pleaded no contest to the charges that lead to a $20,000 fine.

"They have to further recognize the problem because the damage is already done, they ought to bring it completely out," said Niehaus, now a visiting judge.

"Who would want to be pope under these terms?" Niehuas asked. "Who's going to be the one that comes out and sweeps every corner?"

SNAP released an official statement about the election of Pope Francis shortly after he was chosen:

" There is no greater example of courageous reform in the history of the Catholic church than St. Francis of Assisi. He lived with and demanded justice for those in our society that have been victimized and destroyed by the powerful. During his time he stood up an challenged bishops and cardinals and the Pope.

Thousands of victims of childhood rape and sexual assault by priests have been, like St. Francis, courageously coming forward around the world and demanding that the Catholic Church stop the cover up of sex crimes by clergy.

Pope Francis must, as his very first act, decree the zero tolerance of sexual abuse of children by priests. This one act would, in a single stroke of his pen, protect millions of children from harm, bring justice to hundreds of thousands of victims of clergy sexual abuse, and turn the church finally on a path towards true healing, recovery and reform."