Bishop Mccort Scandal: Former Female Student Alleges Abuse
By Kathy Mellott
The Tribune-Democrat
March 21, 2013

http://tribune-democrat.com/local/x1499308281/Bishop-McCort-scandal-Ex-female-student-alleges-abuse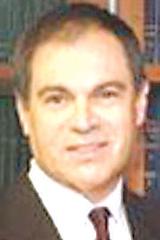 Serbin

Baker



Another former student of Bishop McCort Catholic High School has stepped forward alleging sexual abuse at the hands of the late Brother Stephen Baker, according to an Altoona attorney representing this latest victim and several others.

This time, the alleged victim is a female, and attorney Richard Serbin anticipates more women will be stepping forward naming the Franciscan friar.

"This young lady says she knows there are others," said Serbin, a sex abuse civil litigator.

Baker was 62 when he died in late January of a self-inflicted stab wound to the heart in his quarters at St. Bernardine Monastery just outside Hollidaysburg. He had been accused by more than 50 men of sexually molesting them while they were students at the Johnstown parochial high school.

The incidents are believed to have occurred largely when Baker was giving the students massages as part of his treatment for sports injuries. But details of the alleged molestations have yet to be spelled out.

The abuse of girls at the school likely involved primarily those who were cheerleaders and athletes, Serbin said.

This latest alleged victim, now represented by Serbin, said she was abused by Baker on multiple occasions, beginning when she was 15.

"She understood Baker was an athletic trainer who was responsible for treating athletic injuries," Serbin said.

Serbin said he has been unable to find any evidence that Baker, who also worked at Bishop McCort as a religion instructor, had formal training or held certification as an athletic trainer as required by law.

Baker worked at Bishop McCort from 1992 through the early 2000s, but former students have notified Serbin that Baker "hung around" the school in years subsequent to his employment.

Serbin has not filed notification of a civil lawsuit involving the female, but he has filed law-suits for five alleged male victims in Blair County court.

Among those named as plaintiffs are the high school, Franciscans, the Catholic Diocese of Altoona Johnstown and the Rev. Joseph Adamec, who was bishop of the diocese and oversaw operation of its high schools during the time Baker was employed in Johnstown.

Civil lawsuits also have been filed in Cambria County by a Greensburg attorney on behalf of alleged victims.

Additional information is surfacing that Baker was involved with middle school children who were participating in parish-sponsored programs, Serbin said. He did not provide a time line for that involvement.

Tony DeGol, secretary of communications for the diocese, said he is unable to comment because the matter involves litigation.