Woodburn Priest Sentenced to 75 Months in Prison on Sexual Abuse Charges
By Everton Bailey
The Oregonian
April 1, 2013

http://www.oregonlive.com/pacific-northwest-news/index.ssf/2013/04/woodburn_priest_sentenced_to_7.html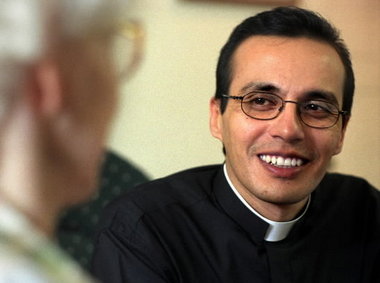 The Rev. Angel Armando Perez, seen in this 2002 photo, was sentenced to 75 months in prison Monday after pleading guilty to first-degree sexual abuse, intoxicated driving and furnishing alcohol to a minor charges in Marion County Circuit Court.



A Woodburn priest accused of sexually abusing a 12-year-old boy during an overnight stay, then chasing him down the street in his underwear in August 2012 accepted a plea agreement Monday and was sentenced to more than six years in prison.

The Rev. Angel Armando Perez, 47, pleaded guilty in Marion County Circuit Court to charges of first-degree sexual abuse, driving intoxicated and furnishing alcohol to a minor. Accusations of using a child in a display of sexually explicit conduct and tampering with evidence were dismissed.

He will serve six years and three months in prison for the sexual abuse charge, the mandatory minimum for that Measure 11 crime. He will serve the penalty for the other charges concurrently.

Marion County Circuit Judge Courtland Geyer also ordered Perez to register as a sex offender.

Perez is the first priest of Mexican descent in the Archdiocese of Portland, which represents Roman Catholics in western Oregon. The native of Mexico holds a green card for legal residence as a minister of religion.

During a August 2012 court hearing in Salem, Deputy District Attorney Katie Suver said Perez could face deportation to Mexico if convicted of sexual abuse. It's not known whether that will happen.

Perez is the third priest to be convicted of criminal sex abuse charges in Oregon.

The first conviction involved Thomas B. Laughlin, who was found guilty in 1983 of sexually abusing two boys in Multnomah County and later was removed from the priesthood. He admitted to molesting dozens of boys over decades in parishes throughout the state. Laughlin died last month.

The second was Jose Joaquin Estrada Arango, who served in the Diocese of Baker. He pleaded guilty in 2003 to sexually abusing a 14-year-old girl in Morrow County and later was deported to Colombia.

Perez, a pastor at St. Luke Catholic Church in Woodburn since 2008, was arrested Aug. 13, 2012, after the boy spent the previous night at his home. The priest had asked the boy's parents whether he could take the boy on a trip to the mountains, court documents said.

The boy told investigators that he was awakened by an apparent flash from a camera. He found his shorts and underwear at his knees and Perez next to him on an air mattress. The priest had the boy's genitals in one hand and a cell phone in the other, court documents said.

The boy ran out of the home with his belongings and Perez, in his underwear, chased him, court documents said. A neighbor found the boy and drove him to a relative's home, where he detailed what had happened to him.

Perez, apparently intoxicated, drove to the boy's home and begged his family for forgiveness, according to court documents.

"I am very sorry," he reportedly said. "I made a mistake."

Perez later told investigators that he drank throughout the night, blacked out while watching a movie at his home with the boy and didn't recall what happened next.

He said he had a feeling something was wrong when he went downstairs after brushing his teeth and saw a look of "disappointment and anger" from the boy, court documents said.

Rosemary Brewer of the Oregon Crime Victims Law Center, who represented the victim, said the Marion County district attorney's office consulted the boy's family about the sentencing.

"They felt it was appropriate," she said. "It's such a betrayal for this family especially because they put so much trust in him (Perez)."

Brewer said the boy's family is relieved that the case is over.

Marc Blackman, a founder of the Ransom Blackman law firm in Portland, represented Perez. He did not return a call for comment.

Bud Bunce, director of communications for the Archdiocese of Portland, said Perez has been on a leave of absence since his arrest. He has been jailed since being taken into custody.

The archdiocese provided a loan to Perez to cover his legal fees, but Bunce would not specify the amount.

The archdiocese will conduct an investigation and decide soon whether Perez should be removed from the priesthood, Bunce said.

In a statement released Monday, the Archdiocese of Portland asked for prayers for the victim, his family and the parishioners at St. Luke as well as for Perez's family and friends. Prayers for forgiveness also were requested.

"Yet, forgiveness does not exclude the consequences of justice under our nation's laws," the statement said. "Father Perez is now facing those consequences."

-- Everton Bailey Jr.