Priest Pleads Not Guilty to Second Child Rape Charge
By Julie Manganis
The Salem News
April 6, 2013

http://www.salemnews.com/local/x1862031923/Priest-pleads-not-guilty-to-second-child-rape-charge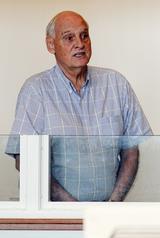 File photo The Rev. Richard McCormick



IPSWICH — The former head of a religious order in Ipswich pleaded not guilty yesterday to new charges that he sexually abused a child in the early 1980s.

The Rev. Richard McCormick, 72, who once held a position that is the equivalent of a bishop with the Salesian Brothers of Don Bosco, was charged last summer with molesting a child who was 9 and 10 years old at the time, while he was serving at the Salesian's Sacred Heart retreat center some 30 years ago.

After seeing coverage of the case in the media, a second person came forward, saying he, too, had been sexually abused in the early 1980s while attending a summer camp run by the Salesians. The accuser was between 7 and 9 at the time, according to prosecutors.

McCormick was indicted in the second case last month, and yesterday traveled from Missouri to be arraigned.

He pleaded not guilty to the single count of child rape.

His lawyer, Stephen Neyman, has filed motions to dismiss the earlier case on several grounds, including one that cites the First Amendment. That motion was not filed yesterday in court, but prosecutor Kate MacDougall referred to it during the hearing.

Neyman is also seeking to dismiss the charges on several other grounds, including an argument that the case is beyond the statute of limitations and that the grand jury that indicted McCormick was not presented with sufficient evidence to do so.

McCormick has been free on $1,000 bail since his original arraignment last year; Judge Timothy Feeley rejected a request by prosecutors at the time to set bail at $75,000.

Last fall, Feeley granted a request to allow McCormick to live at the Vlanney Renewal Center outside St. Louis, Missouri, a facility for accused pedophile priests. Prior to that he had been living in New Rochelle, N.Y.

A status hearing in the case is set for June 5, but McCormick will not have to appear. He will, however, be expected to attend the motion hearings, likely to take place sometime during the summer, Feeley said.