Bishopaccountability.org Exposed [part Ii]: Broadcasting Rumor and Innuendo to Trample the Innocent and the Dead
TheMediaReport
April 11, 2013

http://www.themediareport.com/2013/04/11/bishopaccountability-org-exposed-part-ii/

[Diocese of Kansas City-St. Joseph via BishopAccountability.org]

[Archdiocese of Boston]

[Los Angeles Archdiocese ]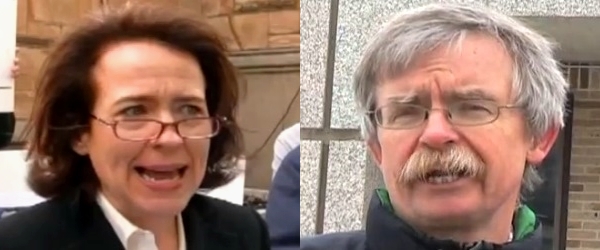 On the attack against priests: Anne Barrett Doyle and Terry McKiernan of BishopAccountability.org



Visitors to the home page of BishopAccountability.org are greeted with the name of the site and the tag line, "Documenting the Abuse Crisis in the Roman Catholic Church." Prominently displayed on the top of the home page is a feature called "Abuse Tracker," while further down the page, the site solicits any visitors to "send us photos of survivors, offenders, affected parishes, and important events."

What other conclusion are first-time visitors then supposed to reach except that any priests profiled on the site are guilty of horrific child sex abuse?

The "posting policy" of BishopAccountability.org (which is buried on its site) begins with the oft-seen boilerplate language attempting to shield the site from potential defamation suits: "In the U.S. legal system, all accused persons are presumed innocent until proven guilty." But the site clearly gives initial visitors the opposite impression: that any featured priests are guilty of criminal abuse.

And it is an incontrovertible fact that the site brazenly and openly features numerous priests whose complete innocence has already been long established and who are merely victims of public rumors, innuendos, and scams.

Tromping innocent priests

For example, in 2007, after a quarter of a century of unblemished ministry, a troubled man sued the Diocese of Kansas City-St. Joseph claiming that Fr. Stephen Muth abused him some fifteen years earlier. The accuser hired the notorious Rebecca Randles as his lawyer, a woman so unhinged that she has actually repeatedly claimed that child sex abuse was, in fact, a "collective objective" of the Diocese of Kansas City-St. Joseph and that the diocese "ratified" and "encouraged" abuse by priests.

As the accuser's charges were being investigated, it became so clear that the man's claims were baseless and bogus that even the ever-litigious Randles asked to dismiss her own tawdry suit.

In a statement to display how spurious the claims were, the judge overseeing the case not only promptly dismissed the case but he did so with prejudice, meaning that the accuser is never allowed to file suit against the priest in the same court ever again.

Despite the fact that Fr. Muth's only claim ever against him was essentially a fraud, BishopAccountability.org still continues to plaster Muth's name and picture in its database of "publicly accused" priests on its site as if the man were a dangerous child molester. It even includes a full-page and ominous-sounding "assignment record" of the innocent priest.

Such is the atrocious "posting policy" at BishopAccountability, which allows just about any accusation – no matter how old, flimsy, and/or discredited – to be broadcast on its site. [More on Father Stephen Muth]

Smearing the defenseless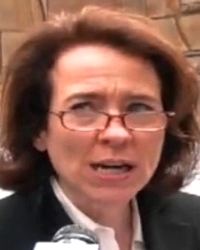 "Where do I go to get my reputation back?" Anne Barrett Doyle



No priest or reputation is safe from the bile of BishopAccountability.org, operated by Anne Barrett Doyle and Terry McKiernan.

In 2003, a year in which California opened up a window for accusers to sue the Church and receive money big money for abuse no matter how long ago they claimed it occurred, a man came forward in Los Angeles to claim that Fr. Michael Joseph Haran had abused him many years earlier.

In nearly three decades of ministry in the Archdiocese of Los Angeles, there was never any hint, suggestion, or allegation of any impropriety against Fr. Haran. So, what did Fr. Haran say to the allegations suddenly lodged against him in 2003?

Well, Fr. Haran said nothing, as he died 30 years earlier in 1973. His lone accuser claimed his abuse occurred sometime after World War II, in 1948. And although there was absolutely nothing to substantiate the charges against Haran, BishopAccountability has the priest's profile and work history, just like that of Fr. Muth, pasted on its site as if it were a fact that Fr. Haran was a known child molester.

And Rev. Haran is hardly alone. In Los Angeles alone, Haran is among dozens of long-deceased priests who have been publicly accused of abuse even though there was never anything in their personnel files to suggest that they were guilty of any wrongdoing whatsoever. And in many other cities like Boston, there have been men like Rev. James H. Lane and Rev. Rickard O'Donovan, both of whom were dead for years before a single accuser came forward seeking money and alleging abuse. Yet the men's names and files are openly listed on BishopAccountability.org.

Indeed, in 2011, 45% of all priests who were accused of abuse were already deceased. Indeed, almost a decade ago, one major archdiocese was already then claiming, "Most of the lawsuits against us involve dead priests."

Yet this blatant injustice does not mean anything to McKiernan and Doyle at BishopAccountability. It has no problem in the public trafficking of rumors against innocent, dead, and defenseless priests.