Diocese Reveals Abuse Allegation against Retired Priest
By Nathan Phelps
Press-Gazette
April 14, 2013

http://www.greenbaypressgazette.com/article/20130413/GPG0101/304130369/Diocese-reveals-abuse-allegation-against-retired-priest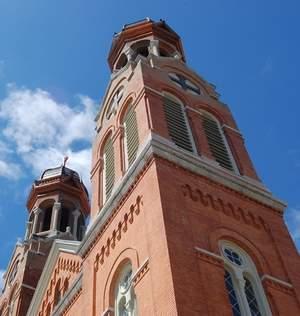 File/Press-Gazette Media



A retired priest has been accused of abusing a minor in the 1970s, the Catholic Diocese of Green Bay announced Saturday.

The Rev. Justin N. Werner denies the allegation, the diocese said in a statement. The abuse is alleged to have happened at St. Edward Parish in Mackville, which is in Outagamine County.

Justine Lodl, director of communications with the diocese, declined further comment on the matter, saying it remains under investigation.

The diocese said Werner is being "temporarily restricted from performing any public ministry pending the outcome of a complete review of these matters, which includes an investigation by an independent professional investigator."

The diocese said it notified civil authorities of the allegations as part of its mandatory reporting policy. It is assisting the alleged victim and Werner, the release stated.

"Making this statement is a good start," Survivors Network of those Abused by Priests said in a statement. "The diocese now has to make sure parishes where Werner has been conducting ministry... are asked to help the police with any information on the case."

An Outagamie County Sheriff's Department official said Saturday they did not have a report, but that it could have gone directly to the investigations department, which was closed Saturday.

Earlier this week, the Archdiocese of Milwaukee said it will release thousands of pages of documents tied to sexual abuse lawsuits, including depositions with some former top officials.

The archdiocese, which had been fighting the documents' release, made its announcement the day before the matter was to be decided in U.S. Bankruptcy Court in Milwaukee. The archdiocese filed for Chapter 11 bankruptcy protection in January 2011 to deal with about 500 sex abuse claims. Lawyers representing the men and women who filed the claims had been seeking the documents' release.

The documents include depositions by New York Cardinal Timothy Dolan, who previously led the Milwaukee archdiocese, as well as by former Milwaukee Archbishop Rembert Weakland and retired Bishop Richard Sklba. Victims' advocates have accused archdiocese leaders of transferring abusive priests to other parishes and concealing their crimes for decades.

The archdiocese said it will post the documents on its website by July 1. The documents will also include items from priests' personnel files and the files of bishops and other church leaders.