SNAP Wants Tighter Control of Abusive Priests
Chicago Sun-Times
April 30, 2013

heraldnews.suntimes.com/news/19800280-418/snap-wants-tighter-control-of-abusive-priests.html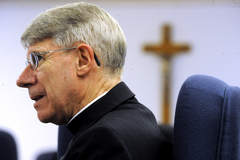 Members of SNAP are calling on Bishop R. Daniel Conlon, head of the Joliet Diocese, to more closely monitor abusive priests. | Joseph P. Meier~Sun-Times Media



An advocacy group for victims of pedophile priests wants Catholic bishops to force priests who are removed from ministry because of abuse allegations to be confined in residential treatment centers.

But a spokesman for the Joliet Diocese said that would be an exercise of authority that a bishop does not have over such priests.

The Survivors Network for those Abused by Priests, or SNAP, is calling for closer control of abusive priests — citing the case of a Joliet Diocese priest who has been living in Kentucky for more than 30 years and engaging in at least informal missionary work without being monitored, years after being removed from the ministry.

"If a bishop can insist that a priest not marry, not lobby for the death penalty, not lobby for Planned Parenthood or work anywhere other than where the bishop tells him he can work, it's within the bishop's power to tell him where he can live," SNAP national director David Clohessy said.

SNAP pointed to the Rev. Carroll Howlin, a priest under the Joliet Diocese, although he has been in Kentucky since 1977 when he started doing missionary work there.

Howlin's personnel records are among those released recently by the diocese in a legal settlement of a case involving another priest. His continued residency and work in Kentucky was detailed in a story in the Chicago Tribune last week.

The diocese investigated Howlin in 1995 for alleged sexual abuse and found the charges not credible. But a second inquiry in 2002 after he was accused of sexually abusing a teenage boy led to Howlin's permanent removal from ministry.

The diocese also found as credible allegations that Howlin molested two teen brothers in Kentucky, one of whom killed himself at 17, according to the Tribune. In 2010, a Vatican order forbade Howlin from having contact with anyone under 18.

Members of SNAP stood outside the office of the Archdiocese of Chicago on Monday, calling on Cardinal Francis George and Bishop R. Daniel Conlon, head of the Joliet Diocese, to more closely monitor abusive priests.

"There's a reason you have molesters. It's because they cannot be monitored 24/7," Clohessy said. "You have a better chance if they are in a residential facility with trained professionals who supervise them."

A spokesman for the diocese said the expectation that bishops can control the whereabouts of priests once they are removed from ministry is unrealistic.

"The bishop doesn't have the right to tell a priest removed from ministry where he has to live, and priests do have legal rights," James Dwyer said, adding that once a priest is removed from ministry "the bishop can't do much of anything."

Dwyer said the Joliet Diocese does monitor Howlin's activities with the help of the Lexington Diocese in Kentucky. He acknowledged that the Joliet Diocese had to admonish Howlin for representing himself as a priest, however, such as when he wrote a column for a local newspaper. But Dwyer said that was an example that the diocese was keeping track of his activities.

He said Howlin at age 79 is infirm and his activities are limited.

A spokeswoman for the Chicago Archdiocese said priests that it has identified as abusers are either defrocked, dead or in nursing homes.

Clohessy, however, said old age is no guarantee that a child molester will not continue abusive behavior.

SNAP also wants bishops to list the addresses of priests who are removed from ministry for abuse allegations. The organization also called for Conlon to be removed as chairman of the U.S. bishops' Committee for the Protection of Children and Young People.