St. Vincent Parishioners, School Parents Told of Accusation against Priest at Monday Meeting
By Carol McPhail
AL.com
May 14, 2013

http://blog.al.com/live/2013/05/st_vincent_parishioners_school.html

Parishioners, parents and students at St. Vincent de Paul Catholic Church were informed at a meeting Monday night that their priest, Father James Havens, had been placed on administrative leave related to an accusation of sexual abuse.

On Tuesday, Archbishop Thomas J. Rodi said he attended the meeting at the Tillman's Corner church, where parishioners were handed statements saying that a 34-year-old woman had made an accusation of sex abuse against the priest involving a 1989 act in her family home.

The archdiocese reported the accusation to the Mobile County District Attorney's office. No charges have been filed.

Havens, whose leave was effective Wednesday, May 8, has been at St. Vincent since 2010. According to archdiocese policy, The 62-year-old priest may not exercise priestly ministry or live on parish property while on leave. The archdiocese declined to release his current address, though it has been shared with the authorities.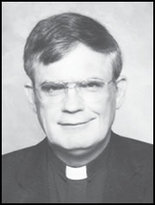 Rev. James Havens was appointed pastor of St. Vincent de Paul parish effective July 10, 2010.



Parishioners were told of the meeting at weekend masses, while parents of students at St. Vincent's K-8 school were informed by a telephone notification system.

In addition to St. Vincent, Havens has served at the parishes of St. Dominic and Little Flower in Mobile, Sacred Heart in Grove Hill and St. John in Butler.

This is the second scandal for St. Vincent in six months. In December, Robert L. Nouwen, who had served as deacon at the church, pleaded guilty to possession of child pornography.

Rodi said that the archdiocese was handling Havens' accusation in accord with promises it has made – that sex abuse of minors will not be tolerated and that the office would cooperate with civil authorities.

Also at the meeting were Father James Cink, director of child protection, and the Rev. Msgr. Stephen Martin, Rodi said.

"We ask for prayers for all concerned," the statement said. It said "the allegation will be as carefully and thoroughly investigated as possible and in cooperation with civil authorities so that the truth may be determined."

cmcphail@al.com