Man Pleads with Diocese to Reopen Abuse Case
By Matthew Mcgrath And Abbott Koloff
The Record
May 16, 2013

http://www.northjersey.com/news/207666941_Man_pleads_with_diocese_to_reopen_abuse_case.html

A man who says he was sexually abused by a priest as a teenager made a public plea Wednesday for the Roman Catholic Archdiocese of Newark to reconsider his case five years after it rejected his allegations.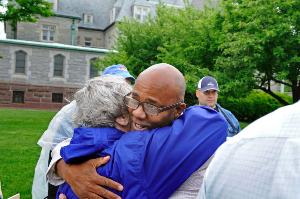 Richard C. Gee hugging supporter Beatrice Mondare. Gee says a Newark pastor abused him in the 1980s.



Richard C. Gee said at a press conference that members of an archdiocesan review board determined that he was not a credible witness after he testified before them in 2008. He accused the late Rev. John Nickas, a former pastor of St. Rocco's Church in Newark, of molesting him in the early 1980s when he was 16 years old and staying at a homeless shelter run by the parish.

The accusations were made as the archdiocese is embroiled in a controversy over the review board's recommendation that the Rev. Michael Fugee be returned to ministry after his conviction on a charge of criminal sexual contact was overturned by an appellate court on a technicality. Fugee, 52, was an assistant pastor at St. Elizabeth of Hungary Church in Wyckoff when he allegedly groped a 13-year-old boy in 1999 and 2000.

"They owe me an apology," Gee, 47, who lives in Georgia, said of the review board members as he stood outside the Cathedral Basilica of the Sacred Heart. "Hopefully, now they will listen to me."

Earlier this week, Gee's attorney, Mitchell Garabedian, announced that the archdiocese paid $75,000 to another of his clients, identified only as F.P., who accused Nickas of sexual abuse. The settlement came eight months after the review board informed F.P. that there wasn't enough evidence to support his allegations, Garabedian said.

A spokesman for the archdiocese, James Goodness, would not comment on Gee's allegations or on the settlement in F.P.'s case, but he defended the review board. He said the board does not comment on the credibility of accusers, and bases its decisions on available information. The board consists of attorneys, criminal investigators, canon lawyers and social workers.

"It's thorough, it's professional and it's compassionate," Goodness said of the panel.

After the review board allowed Fugee to return to ministry in 2007, he was promoted and was allowed to live in the rectory of Sacred Heart Church in Rochelle Park. It was later revealed that he attended youth group excursions sponsored by a Monmouth County church despite having signed an agreement with the Bergen County Prosecutor's Office that barred him from working with children.

There is no evidence that archdiocesan officials knew he was participating in those ministries.

In recent weeks, some politicians have called for Newark Archbishop John J. Meyers to resign over his handling of the Fugee case. Fugee has since resigned from the ministry.

In a telephone interview, Garabedian called the review board a "kangaroo court."

F.P., an Essex County resident now in his early 50s, alleges that Nickas sexually abused him six times from 1970 to 1972 while he was between the ages of 6 and 8 years old, Garabedian said. During a hearing before the review board last year, Garabedian said, his client was not allowed to discuss details about the abuse.

"It left a gaping hole in the interview process," Garabedian said. "After all, the description of the abuse is at the heart of the matter."

Goodness said the accuser provided the review board "with both written and verbal information that was very detailed."

Gee, who had a stint in the Army, went before the review board in 2008 after he was released from a Georgia prison where he had been serving a 16-year sentence for a 2001 armed robbery. He said he committed robbery and other crimes to support a crack cocaine habit.

Robert Hoatson, a former priest and founder of the sexual abuse victims' support group Road to Recovery, said review board hearings are stacked against victims, and that church officials have too much control over them.

Staff Writer Jeff Green contributed to this article.