Archdiocese of St. Louis Admits Sexual Abuse Committed by Priest Leroy Valentine Is True
Vatican Crimes
May 21, 2013

http://www.vaticancrimes.us/2013/05/archdiocese-of-st-louis-admits-sexual.html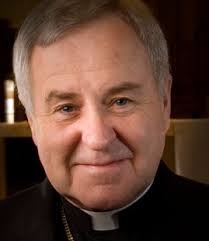 Archbishop Robert Carlson



The St. Louis Archdiocese had what Archbishop Robert Carlson ridiculously called "sad news" about clergy sexual abuse. If he even remotely cared about the abuse committed unto these children he, with the authority placed upon him in his position, would see to it that justice is served when it comes to these criminals, but instead takes the nations for fools since nothing is mentioned about the Catholic order he is called to follow called CRIMENS SOLLICITATIONIS whereby the Vatican protects pedophile priests worldwide.

But the good news is that this cave of criminals known as the CATHOLIC CHURCH can not hide from the just retribution coming their way since they can not run from God's justice which will soon manifest against them. The truth about the Catholic Church is surfacing, their end is inevitable, and now information about the fact that the Archdiocese of St. Louis is not exempt from the damage of these criminals is being discovered...

On May 1, the archdiocese posted a statement from Carlson on its website saying he had permanently removed the Rev. Leroy Valentine, 71, from ministry. Need we remind them that criminals belong in jail? What good is simply 'removing' them from ministry if these criminals could still have access to children?

An internal lay investigatory board had determined that "incidents" taking place "in the 1970s" which had been "only recently brought to our attention" were credible, Carlson said.

They finally admit it.

The archdiocese also published an article in its weekly newspaper, the St. Louis Review, about Valentine's removal saying the "allegation of abuse occurred in the 1970s."

Yet the archdiocese mentions nothing about their order of CRIMENS SOLLICITATIONIS to protect pedophile priests, transferring them from parish to parish to silence scandals.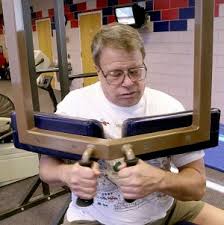 Priest Leroy Valentine working out



A closer look at Valentine's story reflects a 30-year journey that neatly embodies the Roman Catholic church's struggle to deal with its sexual abuse troubles over that time.

This priest who has been repeatedly accused of abuse, and yet neither the law nor the church can prove it. So the archdiocese, despite proclaiming again and again through the years that no allegation against Valentine has been found credible, says he's "been monitored and supervised continuously since 1999." He is not guilty. He is not innocent.

In 1995, three adult brothers sued the archdiocese accusing Valentine of molesting them in 1982. The brothers had been members at St. Piux X Catholic Church in the Glasgow Village area and attended the school there.

Valentine denied the charges as expected, and to no surprise then-Archbishop Justin Rigali backed him up in court since he follows the CRIMENS SOLLICITATIONIS order that most of the world is unaware of, protecting pedophile priests. He put Valentine on administrative leave, and for a time Valentine entered a Catholic facility for troubled priests in eastern Franklin County. Wow, what a punishment. Subsequently his address was listed as a St. Louis apartment building.

In 1998, the archdiocese paid each of the brothers $20,000 settlements, and the following year Rigali assigned Valentine to a new parish.

There you have it. Crimens Sollicitationis at work.

In its story this week, the Review said that Valentine had "repeatedly stated" that the brothers' allegations was untrue, and "was not found to be credible by civil authorities, and he was returned to active ministry."

Rigali assigned Valentine to be associate pastor of St. Thomas the Apostle in Florissant in October 1999. In a letter to parishioners, the church's pastor said "the conclusion of the therapists who evaluated Father Valentine is clear that he poses no threat to children. Additionally, the allegation has been resolved with no finding of guilt or liability on the part of Father Valentine."

But a little more than two years later, the clergy abuse crisis had rocked the Catholic church back on its heels, and Valentine became the subject of a front-page New York Times story and multiple stories in the Post-Dispatch.

As the crisis expanded during the first months of 2002, the St. Louis archdiocese claims to the public that it "tightened its abuse policy" saying no priest with a substantiated allegation of child sexual abuse would be allowed to work in a pastoral setting or a position that provided access to children. Again, quite the opposite of the CRIMENS SOLLICITATIONIS order they follow to protect pedophile priests.

[]

"There is nobody we are worried about in the ministry," Dolan said.

They can state all they like, wishing the immunity they have enjoyed for the past 2000 years was still in tact, however the Lord has arrived to destroy this evil organization, whether they like or not, and any day now, it will go in flames.

This pedophile protect went on to tell the New York Times that, "we have to be able to say, we have to be able to believe, that there is no priest in a parish against whom there is a credible claim of clerical sexual abuse."

Again, here is the Catholic Church using its false appearance of mercy to deceive.

Three days later, the archdiocese issued a statement specifically about Valentine, saying it "continues to support Father Valentine in his ministry to the people of St. Thomas the Apostle Parish."

But then, a few weeks later, a former altar boy came forward. The truth always surfaces and God's angels are out exposing all the crimes of this criminal organization known as the Catholic Church.

He was 32, and told the Post-Dispatch that he was 8 at the time Valentine had molested him, in 1978 at Immacolata Church in Richmond Heights. Valentine allegedly put the boy on his lap while hearing his confession, then put his hands in the boy's pants.

"I was molested during the first sacrament I ever received," the man said.

The archdiocese said then that it was investigating new accusations against Valentine "from many years ago." The alleged misconduct dated to the 1980s, the archdiocese says now.

Valentine resigned from St. Thomas during that investigation but maintained his innocence, saying his departure was "in the best interest of our parish family, of the archdiocese and for my own personal well-being."

What a joke.

But eventually, the allegations leading to Valentine's resignation were also found to be unsubstantiated by the archdiocese's advisory board.

And yet despite being cleared by the archdiocese, Valentine never returned to public ministry.

From his resignation in 2002 until 2005, Valentine lived in a private residence, according to the statement. Since then, he's been living "in a retirement home." Public records indicate that is Regina Cleri, the archdiocese's retirement home for priests on its campus headquarters in Shrewsbury. A request to speak with Valentine went unreturned.

The archdiocese did not distribute a release about Valentine to the secular press. To no one's surprise, the Vatican declined to directly answer questions provided by the Post-Dispatch for this column. It also declined to make anyone available for an interview. Instead, it issued a statement from Phil Hengen, director of its Child and Youth Protection office, who said the recent, credible allegation took place in 1978.

The allegation involved "inappropriate touching of a minor" and the archdiocese learned of it last summer, Hengen said in the statement.

Archdiocese spokeswoman Angela Shelton said the recent allegation involves a single person who says Valentine abused him "on more than one occasion."

Archdiocese officials investigated, and the process concluded with Carlson's announcement May 1.

"Father Valentine," according to Hengen, "will continue to live in a monitored, secure environment."

And there you have it. That's the Catholic Church.