Priest's Body Found in Alexandria Motel
KSLA
June 10, 2013

http://www.ksla.com/story/22552388/priests-body-found-in-alexandria-motel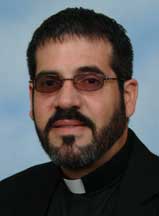 Father Jamie Medina-Cruz



ALEXANDRIA LA (KSLA/KALB) -

Police in Alexandria are investigating the death of a Catholic priest found dead in a local motel on Friday.

Officers were called the Value Place Motel for a welfare concern, and found Father Jamie Medina-Cruz dead in one of the rooms there.

Police say there were no signs of foul play. They say they are not releasing any further details at this time.

Father Medina Cruz, 48, was on administrative leave from Saint Mary's Assumption Catholic Church in Cottonport, after he was arrested and charged with indecent behavior with a juvenile. A grand jury in Avoyelles Parish had recently indicted him on those charges.

A native of Puerto Rico, Medina-Cruz was ordained on May 29, 1999. His assignments included churches in Natchitoches, Marksville, Ferriday, Alexandria and Cottonport.

On Monday, the Diocese of Alexandria released a statement regarding the death of Reverend Jamie Medina-Cruz.

Father S. Scott Chemino, Vicar General of the Diocese of Alexandria, said, "We are still grieving over this and making our way for all that must be done. Please, let us keep him and so many in our prayers."