CLAIMS of Abuse in Lawsuit against St. Francis Prep
By Michael O'keeffe
New York Daily News
June 13, 2013

http://www.nydailynews.com/sports/i-team/claims-abuse-suit-st-francis-prep-article-1.1371212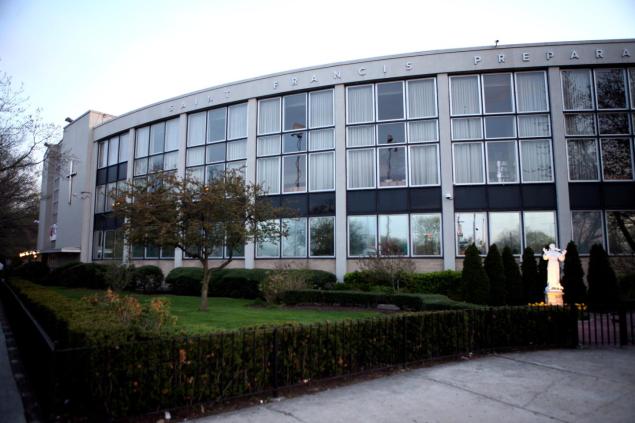 Officials at St. Francis Prep are named in lawsuit claiming they ignored sexual and physical abuse by a longtime assistant football coach.



Officials at St. Francis Prep ignored sexual and physical abuse by a longtime assistant football coach, according to a lawsuit filed against the Queens school on behalf of a former teacher and two ex-students in Brooklyn federal court on Wednesday.

The suit claims St. Francis Prep officials had received numerous complaints that assistant football coach Robert Stenger, who also taught social studies, had sexually and physically abused boys by 1985 but was permitted to continue to work closely with students. Plaintiff Mark Evangelista claims Stenger hit him in the face "with great force" without provocation before a history class in 1985.

Evangelista, who says he graduated from St. Francis Prep in 1986, told the Daily News that teachers would joke about how Stenger — who died in 2006 — would leer at freshman football players in the locker room.

"For a school that has such a great reputation, there were so many incidents of faculty doing inappropriate things," said Evangelista, who told The News he was 14 years old when Stenger hit him.

The Franciscan Brothers of Brooklyn — the order that operates the prep school — and longtime principal Brother Leonard Conway are also listed as defendants in the suit.

Conway told The News he was not aware of the lawsuit when reached for comment on Wednesday night.

Orangeburg (N.Y.) attorney Kevin Mulhearn, who represented 12 men who settled a sex-abuse lawsuit filed against Poly Prep Country Day School in December, filed the complaint on behalf of the three plaintiffs. Mulhearn also represented several former Horace Mann students who claimed they were abused when they attended the prestigious Bronx school.

The lawsuit does not detail specific incidents of alleged abuse by Stenger. A plaintiff who graduated in 2009, identified as "Jane Doe," claims she was sexually harassed by her Spanish teacher, Brother Ben O'Reilly.

After O'Reilly invited Doe to have lunch with him one day, she says he told her, "My goal in life is to give you pleasure."

Doe reported what she called O'Reilly's creepy behavior to school officials, and Conway acknowledged during a meeting with her parents that O'Reilly had a history of harassing girls. "He was, for instance, notorious for asking girls to do splits in their skirts for extra credit," the complaint said.

The lawsuit says the school had O'Reilly evaluated by a psychologist, who proclaimed him unfit to work with children. Doe says she was bullied and attacked by other students after O'Reilly was removed from the classroom. O'Reilly, who continued to live on campus, told students that Doe was a "lunatic with a vendetta against men." She suffered from depression and other problems as a result of the harassment from O'Reilly, the suit said.

The third plaintiff, former teacher Elizabeth Cucinotta Sorvillo, chronicled complaints about St. Francis Prep teachers, students and others on her website, "Burn and Rot in Hell," a website designed to give users a place to vent about their spouses, friends, politics, sports and other topics. The suit said Sorvillo received permission — as well as support and assistance from school officials — before she launched the site in 2011.

But when administrators learned that people were using the site to complain about inappropriate behavior by faculty members, they ordered Sorvillo to shut it down. When she refused, she was terminated.

The suit claims Conway defamed Sorvillo in January when he sent a letter to alumni, parents, faculty and other members of the St. Francis Prep community that said postings on "Burn and Rot in Hell" were defamatory and had crossed over the line of free speech.

Sorvillo, however told The News she is giving students a venue to air complaints about abuse, harassment and discrimination at their school.

"My goal is to help as many people as I possibly can who have been injured by teachers or administrators at St. Francis Prep," she said.