Gallup Diocese Hit with 10 More Sex Abuse Lawsuits
By Elizabeth Hardin-Burrola
Gallup Independent
June 20, 2013

http://www.gallupindependent.com/Independent/Index.html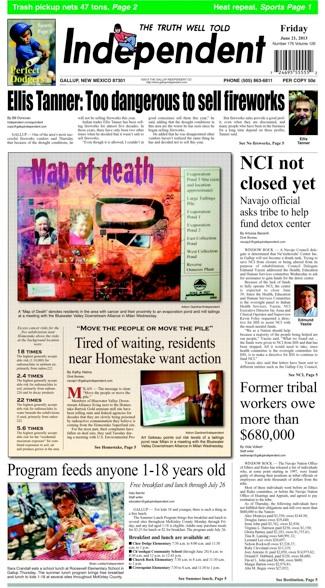 GALLUP — Ten more people, including a Navajo woman from Gallup, have filed clergy sex abuse lawsuits against the Diocese of Gallup.

Phoenix attorney Robert E. Pastor filed the civil complaints in Flagstaff's Coconino County Superior Court on behalf of eight men and two women who allege they were sexually abused as children by clergy working in Catholic parishes on the Navajo Nation or in Holbrook, Winslow, Flagstaff, Camp Verde, Mayer or Humboldt, Ariz. Pastor has three other abuse lawsuits active against the Gallup Diocese. The first case, filed in 2010, is scheduled to go to trial in early 2014.

All of the new plaintiffs' identities are being protected in the court files.

New allegations

Two of the lawsuits name clergy who have never before been publicly accused of abuse. Monsignor James Lindenmeyer, a prominent priest in the Gallup Diocese who died in 2007, is being accused of abuse by a former student at St. Joseph's Catholic School in Winslow. For a number of years in the 1960s, Lindenmeyer served as the diocese's vicar general, or second-in-command.

Brother Mark Schornack, O.F.M., aka Mark Schomack, a Franciscan friar who died in 2012, is being accused of abuse by the Gallup plaintiff. As a child, she attended Mass at the Catholic mission at St. Michaels on the Navajo Nation. Also named in the Schornack lawsuit are the Franciscan provinces in Albuquerque and Cincinnati.

The Rev. Raul N. Sanchez, a former chancellor for the Gallup Diocese, is also named as a defendant. This is Pastor's third lawsuit that has named Sanchez as an alleged abuser. Sanchez left the Gallup Diocese to become an Air Force chaplain, and he is reportedly absent from the diocese and living in Mexico.

Other priests named include Clement A. Hageman, John T. Sullivan and William G. Allison, all of whom are deceased and have been identified as serial — if not notorious — sexual abusers in church documents.

Church responses

Bishop James S. Wall "takes all of these matters very seriously," the Gallup Diocese said Friday in emailed comments, which were not attributed to one particular diocesan official. "He continues to pray for all victims of abuse, and asks us to keep all who are involved in these cases in our prayers for healing.

"The Diocese of Gallup has not, to our knowledge, ever received any claim of sexual misconduct against Msgr. Lindenmeyer other than the one recently filed by Mr. Pastor," the diocese said. "With respect to that claim, we have no facts other than what has been alleged in the complaint."

Toni Cashnelli, communications director for the Franciscan Friars of St. John the Baptist in Cincinnati, said the Franciscan Province had not yet been notified of the Schornack lawsuit or the allegations against him.

"We take all allegations seriously and are committed to responding appropriately," Cashnelli said. The Franciscan Province posts its sexual abuse policy on its website; however, it does not post its list of credibly accused sexually abusive Franciscan friars.

The Rev. Gino Correa, O.F.M., provincial minister for Albuquerque's Franciscan Province of Our Lady of Guadalupe, did not respond to requests for comment. The Albuquerque Franciscans do not post either a sexual abuse policy or a list of credibly accused abusers on its website.

Bankruptcy concerns

Both Pastor and the Diocese of Gallup were asked if these latest lawsuits might push the Gallup Diocese into bankruptcy.

"There can be no dispute that the Diocese has extremely limited resources, and may not have the financial wherewithal to continue to investigate and attempt to compensate victims of credible sexual misconduct claims," the diocese stated. "It is public knowledge that many dioceses with resources far greater than the Diocese of Gallup have been forced to consider and/or file bankruptcy in the face of mounting clergy abuse lawsuits. In light of the foregoing, the Diocese is evaluating all options that are available to it at this time."

"I am not concerned about the Diocese of Gallup's finances," Pastor said in an email Monday. "I am more concerned about the response the Bishop of Gallup has to his victims. ... I hope and pray the Bishop of Gallup will reveal once and for all the names of those priests who sexually abused children while serving in the Diocese of Gallup. The victims, their families, and the Catholic church deserve to know the truth."

The Gallup Diocese declined once again to release updated and accurate information about credibly accused Gallup clergy and the number of abuse victims who have made those allegations.

"The Diocese is not prepared to release that information at this time," it said.

Lack of reporting

Pastor and the Gallup Diocese also sparred in their responses as to why allegations of sexual abuse by Raul N. Sanchez — or any living Gallup clergy accused of sex abuse — have not been reported to law enforcement officials. The U.S. Catholic Bishops' Charter for the Protection of Children and Young People supports such reporting "even when the person is no longer a minor."

"Each of the persons who has made allegations against Fr. Sanchez is an adult who is represented by counsel," the Gallup Diocese said. "In light of the foregoing, we have asked counsel for those claimants to report their allegations to the relevant civil authorities."

"Gallup's request that these victims report the abuse to civil authorities is disingenuous," Pastor said when asked to respond to the diocese's claim. "Gallup made the request after you submitted your questions to diocesan officials. The time to report was when the Diocese knew Sanchez had or attempted to have inappropriate sexual contact with children. The diocese should have reported Sanchez in the 1980s and 1990s. Instead, after he was Chancellor for the diocese, the Diocese of Gallup helped him flee to Mexico. We have asked the Diocese of Gallup to disclose his specific whereabouts, to warn and protect potential victims, but the Diocese refuses to provide accurate information."

Pastor added, "We hope to report to law enforcement in the U.S. soon; however, because the Diocese of Gallup allowed the perpetrator to leave this jurisdiction, that investigation may not produce the answers and the justice these victims deserve."

With these latest lawsuits, 22 diocesan priests or Franciscan friars associated with the Gallup Diocese have been publicly accused of sexual abuse of minors. Two others have been publicly accused of the sexual assault of adult victims.