Breaking of Celibacy Vow Cited in Olathe Priest's Resignation
Olathe News
June 20, 2013

http://www.theolathenews.com/2013/06/19/1978780/breaking-of-celibacy-vow-cited.html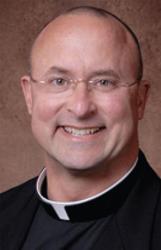 The Rev. William Bruning



The pastor of the Prince of Peace Parish in Olathe has resigned, according to a statement on the Archdiocese of Kansas City in Kansas' website.

The announcement, dated June 15, says the Rev. William Bruning resigned after the archdiocese received an allegation that he had "engaged in behaviors in violation of his promise of celibate chastity."

Archbishop Joseph F. Naumann accepted Bruning's resignation.

The allegation did not involve contact with minors, anyone from the Prince of Peace Parish or any parishes where Bruning had previously served, according to the statement.

To protect the confidentiality of the other person involved, the archdiocese is not releasing details about the allegation, according to the statement.

Bruning has left Kansas City to undergo evaluation and treatment.

Bruning was ordained in 1993 and served in parishes in Johnson and Marshal counties and in Topeka. He had served as pastor of Prince of Peace since July 2012.

The Rev. Gary Pennings, vicar general and moderator of the curia, will serve as parochial administrator for the Prince of Peace Parish until a new pastor is appointed.