Hollywood Awards Accused Child Abuser and Elmo Actor with Three Emmys; Media Sees No Problem
Media Report
June 28, 2013

http://www.themediareport.com/2013/06/27/kevin-clash-elmo-catholic-church/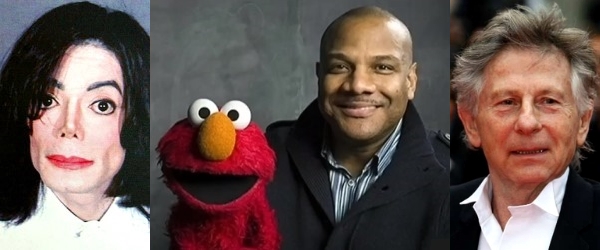 Kevin Clash (with Elmo) joins the Hollywood abuse club with Michael Jackson and Roman Polanski



How do the cultural elites in Hollywood deal with a successful actor after he has been accused by at least four different men of child sex abuse? Not screaming headlines, of course. Instead, it rewards him with three Emmy Awards.

Kevin Clash struck it big in Hollywood by developing the personality and voice of the popular Sesame Street character Elmo. Yet after a number of men came forward late last November to accuse him of abusing them as boys, he resigned from the hit children's show, thus joining a growing list of Hollywood celebrities accused of sex abuse with scant media disapprobation.

Roman Polanski: 'It wasn't rape-rape'

Clash is not the first Hollywood star to be celebrated by media elites even after being accused of child sex crimes.

In March of 1977, Los Angeles law enforcement arrested famed director Roman Polanski for the savage rape of a 13-year-old girl that happened at the home of his famous friend, Jack Nicholson. Court records indicate that after Polanski plied the underage girl with alcohol and drugs, he then forcibly performed oral sex, intercourse, and sodomy.

Polanski never denied the crimes. In fact, he told an interviewer a short time later, in 1979, "If I had killed somebody, it wouldn't have had so much appeal to the press, you see? But f—ing, you see, and the young girls. Judges want to f— young girls. Juries want to f— young girls. Everyone wants to f— young girls!"

Yet through it all, Polanski, the admitted child rapist, continued to have a successful and celebrated filmmaking career, with Hollywood ultimately bestowing its highest honor, an Oscar award, for Best Director for his work on The Pianist (2002).

It seems that child sex abuse can be good for one's career in Hollywood.

And, shockingly, several high-profile media figures have actually jumped to Polanski's defense. Woody Allen, Martin Scorsese, and Debra Winger were reportedly among the list of over 100 Hollywood figures who demanded Polanski's release. On a CNN interview, Tom O'Neill, senior editor of the celebrity magazine In Touch Weekly, cried, "It's mind boggling why they're still pursuing this … It just seems that the prosecutors in Los Angeles won't let go these many years later."

On the nationally syndicated television show The View, co-host Whoopi Goldberg downplayed Polanski's rape of a 13-year-old girl. "It wasn't rape-rape," she claimed. "We're (the United States) a different kind of society. We see things differently. The world sees 13 year olds and 14 year olds – in the rest of Europe, they are seen, often times [as adults]."

And Tom Shales, television critic for the Washington Post, opined, "[I]t may sound like a hollow defense, but in Hollywood I am not sure a 13-year-old is really a 13-year-old."

The 'King of Pop' vs. a Catholic bishop



The late Bishop Juan Arzube



Meanwhile, Michael Jackson, possibly the most successful musical artist of all time, was accused multiple times of child sex abuse. In 1993, Jackson paid a whopping $15.3 million to quietly settle an abuse claim.

In a 2003 television interview, Jackson even openly admitted that he slept with underage boys and actually defended his practice. "It's what the whole world should do," claimed Jackson.

Yet when Jackson died a few years later, and newspapers mourned the loss of the musical legend, the Los Angeles Times, for one, blared a humongous, fawning headline that the "King of Pop" had passed, with his criminal troubles merely meriting secondary attention.

Contrast the treatment by the Los Angeles Times to the death of Jackson with the death of a popular L.A. cleric, Bishop Juan Arzube, who passed away less than a year before Jackson. Arzube was the target of a single accusation during 2003, the year that California lifted the statute of limitations in order for accusers to file money-seeking lawsuits against the Catholic Church.

Arzube vehemently denied the decades-old allegation, but that did not stop the Times from devoting nearly 30 percent of his obituary to the stale accusation against him and stamping the word "ACCUSED" below the photograph accompanying it. (See for yourself and read about this episode.)

Meanwhile, unlike Bishop Arzube, charges of abuse against Jackson continue to this day, even after his death.

'The number one problem in Hollywood' you will almost never read about

In August 2011, Hollywood child star Corey Feldman flatly declared during an interview on ABC:

"I can tell you that the No. 1 problem in Hollywood was and is and always will be pedophilia. That's the biggest problem for children in this industry … It's the big secret."

The mainstream media's reaction to Feldman's remark, however, was almost undetectable. In fact, the Los Angeles Times, a newspaper right in the backyard of Hollywood, never even reported on Feldman's remark. Instead, the paper buried it in a little-noticed blog item a few months later.

Yet mainstream media outlets like the Los Angeles Times continue to hyperventilate over abuse committed decades ago by Catholic priests. In fact, just yesterday, the Times published a splashy, front-page, 2,100-word piece about a priest who was arrested for abuse some 32 years ago.

And surely you would never find a famous media figure defending a Catholic priest accused of sex abuse with defenses like "A 13-year-old is not really a 13-year-old" or "It wasn't rape-rape."