Priest Accused of Molesting Girl, 13, Pleads No Contest
By Cecilio Padilla
Fox 40
July 5, 2013

http://fox40.com/2013/07/05/priest-accused-of-molesting-girl-13-pleads-no-contest/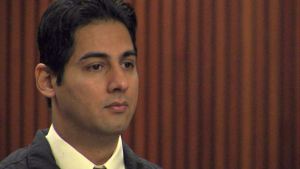 Ojeda at a court hearing in 2012



Rev. Uriel Ojeda has pleaded no contest to charges that he molested a 13-year-old girl.

The plea was announced by District Attorney Jan Scully Friday. In addition to the plea, the DA said that Ojeda has also admitted to molesting the girl.

Ojeda, 33, now faces an 8-year prison sentence, per the plea agreement. He will be sentenced on August 2.

The molestation happened in Sacramento at some point between June 29, 2007 and June 30, 2009, when Ojeda was a priest at the Holy Rosary Catholic Church in Woodland, prosecutors said.

With the plea deal, another six charges were dropped. All charges involved the same 13-year-old girl.

"This is a fair resolution of the case based upon the facts and circumstances. The victim and her family can move forward with their lives and be proud that they had the courage to report the abuse to the Sacramento Diocese and law enforcement," Deputy DA Allison Dunham said in a statement.

Ojeda remains in custody.