Redding Priest Pleads No Contest to Molesting Teen
By Jim Schultz
Record Searchlight
July 5, 2013

http://www.redding.com/news/2013/jul/05/redding-priest-pleads-no-contest-to-molesting/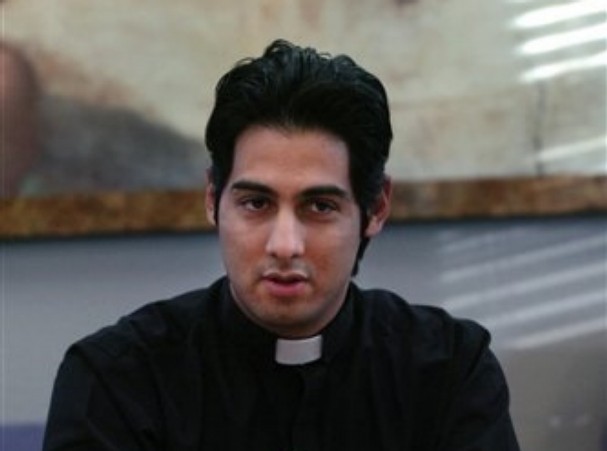 In this May 21, 2009, file photo, Uriel Ojeda holds a meeting at his parish. The suspended Redding priest today pleaded no contest to molesting a teenage girl and was remanded into custody after taking a plea bargain.



A suspended Redding priest today pleaded no contest to molesting a teenage girl.

The Rev. Uriel Ojeda, 33, was taken into custody after accepting a plea bargain, The Sacramento Bee reported.

He had been free on $70,000 bail.

He is to sentenced to eight years in prison under the plea deal, The Bee said. He is scheduled to be sentenced on Aug. 2.

Ojeda took the plea bargain after a Superior Court judge ruled earlier this week statements Ojeda made to a Sacramento diocese official and a private investigator could be used against him at trial.

Ojeda, who was arrested Nov. 30, 2011, was charged with lewd and lascivious acts with a teenage girl over a two-year span — starting when she was 14 — in Sacramento and Shasta counties, according to the criminal complaint.

Ojeda was the assistant pastor at Our Lady of Mercy Church in Redding at the time of his arrest.

Prosecutors have said Ojeda admitted to an investigator for the Sacramento Catholic Diocese that he repeatedly molested the teenage parishioner, but Ojeda and his defense attorney tried to block those statements from being used at trial, claiming they were confidential.

The seven-count criminal complaint against Ojeda alleges the first three molestations, all of which occurred in the alleged victim's bedroom in Sacramento County, took place between June 29, 2007, and June 30, 2009.

But four other incidents are alleged to have occurred in a swimming pool, a bathroom and a bedroom in Shasta County between July 1, 2009, and Aug. 30, 2009, according to the criminal complaint. According to the first count in the criminal complaint, Ojeda allegedly entered the girl's bedroom in Sacramento County and touched her inappropriately.

The felony complaint also alleged he fondled the girl and kissed her during later encounters with her in Sacramento County. In addition, while they were in Shasta County, Ojeda touched the girl's breast in a bathroom and in a swimming pool and also pulled her on top of him, the complaint contends.

In exchange for Ojeda's plea, the DA's office dropped six other felony counts that had been filed against him, all involving the same victim, the Bee reported. He would have faced a sentence of 20 years in prison had he gone to trial and been convicted, the newspaper said.

Approximately two dozen Ojeda supporters attended the court proceeding where the priest entered his no-contest plea, the Bee reported.

They remained silent in the courtroom. A few of them broke into tears in the hallway outside.

Some of them continued to insist Ojeda was innocent and was being persecuted by the diocese, despite his plea, the newspaper said.