Catholic Diocese Pays $2.25 Million to Family of Alleged Abuse Victim
By DeAnn Smith, Heather Staggers
KCTV
July 8, 2013

http://www.kctv5.com/story/22786663/catholic-diocese-pays-25-million-to-family-of-alleged-abuse-victim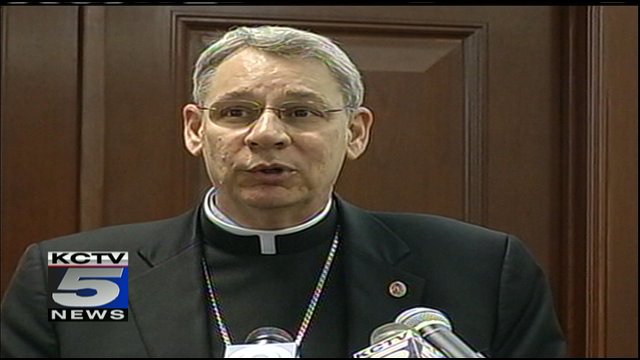 Bishop Robert Finn



The parents of a boy who committed suicide 30 years ago after he was allegedly abused by a Catholic priest will receive $2.25 million to settle their lawsuit.

Jury selection began Monday in a Jackson County courtroom, and opening arguments were slated to start as soon as Tuesday. The settlement was announced Monday afternoon.

Donald and Rosemary Teeman alleged that their 14-year-old son, Brian, committed suicide in 1983 after repeated abuse by Monsignor Thomas O'Brient at Nativity of Mary Parish in Independence. The parents sued in 2011 after a former altar boy disclosed the repeated abuse, which the now 86-year-old priest denied along with other abuse allegations.

The Diocese of Kansas City-St. Joseph unsuccessfully sought to have the lawsuit thrown out because so much time had passed since the alleged abuse. But a judge found that the case could go forward because the diocese had sought to cover up the allegations.

As part of the settlement, the diocese will place a bench at the church in honor of Brian Teeman.

The diocese said the settlement was made in consideration of the "financial and emotional" toll.

"In these circumstances, the Diocese believes that the settlement is in the best interest of the Teeman family, Nativity of Mary parish community and the people of the Diocese as a whole," the Catholic church said in a statement. "While the facts surrounding Brian's death have remained unclear, the tragedy of it is certain. The Catholic community prays that God's face shines upon Brian, His peace descend on the Teeman family and His healing presence strengthen all hearts."

The Survivors Network of those Abused by Priests said the diocese settled because the details of the cover up of the diocese's knowledge of years of abuse by O'Brien would have been made public during a trial.

"We are grateful to the Teeman family for their courage and for putting aside their pain in order to protect others," SNAP said in a statement. "Church officials may pretend this settlement is to spare this family pain but cases like this are often settled on the eve of a trial in order to protect how much they knew and how little they did to protect children."

The family's attorney, Rebecca Randles, did not immediately respond to a request for comment.

O'Brien has been the defendant in more than two dozen sexual abuse lawsuits filed in the past decade.

Few cases involving abuse allegations and priests ever make it to trial, experts say.

"One of the reasons that a defendant would settle is to reduce the amount of publicity and to keep confidentiality," said University of Missouri at Kansas City law professor Jeffrey Thomas. "So certainly that would be an important reason for the Catholic Church to settle."