Chicago Priest to Be Deported to Native Bolivia after Serving Sex Abuse Sentence
Hispanically Speaking
July 9, 2013

http://www.hispanicallyspeakingnews.com/latino-daily-news/details/chicago-priest-to-be-deported-to-native-bolivia-after-serving-sex-abuse-sen/25701/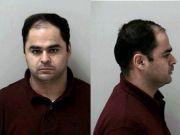 Kane County Sheriff's Office



Father Alejandro Flores is being deported to his native Bolivia after finishing a portion of his four-year sentence for sexually abusing an 8-year-old boy. 

Flores, 40, was a priest in the Chicago suburb of Joliet who no longer has any "sort of public ministry" according to a Chicago Catholic archdiocese spokesman.  The Catholic Church is taking steps to defrock Flores who they now claim should never have been ordained.  Court records indicate the Church held up his ordination so he could receive counseling for viewing pornography on line and after hearing the victim and his brother call Flores "daddy".

The Bolivian priest was recruited in 2004 to come serve the Catholic Church in the U.S.  This is a common occurrence due to the fact the U.S. has declining number of men joining the priesthood. 

The molestation of the eight-year-old started a year after Flores arrived and endured for five years according to court documents.  Flores was a seminarian in West Chicago when the abuse began.

The priest attempted suicide, by jumping from the choir loft, when his misdeeds were discovered. 

Flores pleaded guilty in 2010 and was given a four-year sentence.  Allegations that he possibly abused another child from the same family as the eight-year-old were dropped in return for the guilty plea.  The Joliet diocese reportedly had offered to send Flores to get psychological treatment right before the full-extent of his sexual relations were discovered and authorities became involved. 

Reports indicate Flores will not fight the deportation.  Upon release from prison on parole on June 6 Flores registered as a sex offender.  Illinois prison authorities handed his case over to immigration officials shortly thereafter.  No exact date for the deportation has been given.