Dublin Archbishops Dumped Pedophile Priest on Unknowing California Parish
By Patrick Couhinan
Irish Central
July 13, 2013

http://www.irishcentral.com/news/Dublin-archbishops-dumped-pedophile-priest-on-unknowing-California-parish-215365951.html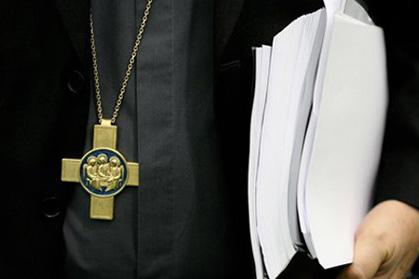 Three former Archbishops of Dublin have been accused of dumping a known paedophile on a parish in California



Three former Archbishops of Dublin have been damned in the latest publication of the Murphy report into clerical abuse of Ireland – and accused of dumping a known paedophile on a parish in California.

Current archbishop Diarmuid Martin has abjectly apologized for the behavior and asked for forgiveness.

The previously unpublished Chapter 20 of the Murphy Report was finally released on the orders of Dublin's High Court on Friday, almost four years after the remainder of the document was made public.

It contains damning allegation against the Archbishops over their handling of former priest Patrick McCabe, now 77 and a convicted serial child abuser.

At one point in 1988 McCabe was sent to St Patrick's psychiatric hospital in Dublin but while there he told diocesan authorities he had secured a job working with homeless people at Stockton, California.

The report says that McCabe left hospital in February 1988. It concluded: "The bishops decided to let him go to the USA. They, in effect, set him loose on the unsuspecting population of Stockton, California. There is no record that they notified the Bishop of Stockton of his arrival."

McCabe was extradited from America in August 2010 but walked free from court last March after an 18 month jail term was backdated by a judge.

The shocking report names Archbishops Dermot Ryan, Kevin McNamara and Cardinal Desmond Connell and is hugely critical of their handling of McCabe.

The Irish Times reports that Archbishop Ryan was Archbishop of Dublin between 1972 and 1984, Archbishop McNamara from 1984 to 1987, and Cardinal Connell from 1988 to 2004.

The newly released chapter also points to 'shocking police connivance' which had the effect of 'stifling one complaint and failing to investigate another, and in allowing the then Fr McCabe to leave the country'.

The Irish Times report says that McCabe was arrested in the US in August 2010 and extradited to Ireland in June 2011. He was jailed for 18 months after he pleaded guilty to the indecent assault of five schoolboys but the sentence was backdated.

The Murphy Commission said it was made aware of 21 complainants where McCabe was concerned.

It says McCabe served in Dublin at the Pro Cathedral from 1971 to 1978, in Artane from 1978 to 1981,in Clogher Rd., Crumlin from 1981 to 1983 and then in the Santa Rosa diocese in California from 1983 to 1986. His faculties as a priest were withdrawn in 1987 and he was laicised in 1988.

The Murphy report says: "Archbishop Dermot Ryan not only about knew about the complaints against Fr McCabe, he had a considerable understanding of the effects of abuse on children. This is one of the few cases in which he took a close personal interest.