Archdiocese Responds to Prayer Vigil for Accused Priest
KMOX
July 16, 2013

http://stlouis.cbslocal.com/2013/07/16/archdiocese-responds-to-prayer-vigil-for-accused-priest/

ST. LOUIS (KMOX)– The Archdiocese is responding to criticism that it was apparently showing public support for a priest accused of sexual abuse.

The Survivors Network of those Accused by Priests held a news conference saying it was wrong for church officials to call a prayer meeting for the "exoneration" of Father Joseph Jiang. Jiang has been charged with sexual abuse of a minor, and with witness tampering for allegedly leaving a check for $20,000 on the windshield of a car belonging to the family of the alleged victim.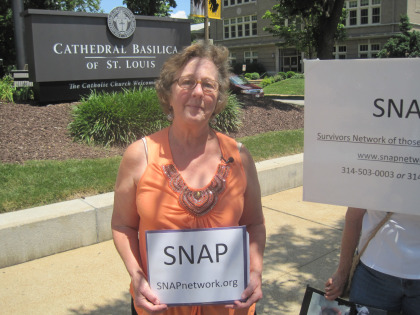 Judy Jones of SNAP protests proposed prayer vigil for accused priest



The Arch Diocese released a statement claiming its leadership was not aware of the proposed prayer vigil, saying it would be appropriate to pray for "justice" but not for "exoneration."

Arch Diocese statement:

"The leadership of the Archdiocese of St. Louis was unaware of this event until it was brought to our attention by a media entity on Monday. The young adult ministry group of the Cathedral Basilica of Saint Louis regularly meets for prayer on a bi-weekly basis, and this holy hour served in place of a regularly scheduled meeting. The Cathedral rector was aware that a holy hour was to take place, even that prayers would be offered for Fr. Joseph, but he was not aware of the express intention as phrased in the Meetup description. The holy hour has since been cancelled and the website taken down. It would be inappropriate for the Archdiocese to encourage prayer specifically for the exoneration of Fr. Jiang. We do pray for Fr. Jiang, as we pray for everyone involved in this situation. More specifically, we pray for justice and healing for all parties involved."

Arch Bishop Robert Carlson has been subpoenaed to give a deposition in the Jiang case. His deposition originally scheduled for this week has been postponed. Last week SNAP raised questions about whether Jiang alone or someone higher up was aware of the alleged $20,000 check reporteldy given to the victim's family after Jiang was charged with sexual abuse. The Arch Diocese has declined to comment on the criminal case.