Departing Oradell Pastor the Rev. Thomas Iwanowski Apologizes to His Congregation
By Jeff Green
The Record
July 28, 2013

http://www.northjersey.com/news/bergen/Departing_Oradell_pastor_the_Rev_Thomas_Iwanowski_apologizes_to_his_congregation.html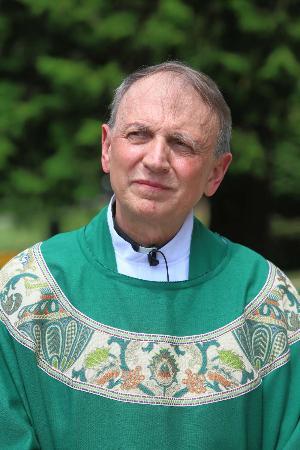 CHRIS PEDOTA



ORADELL — On his final Sunday as pastor of St. Joseph Roman Catholic Church, the Rev. Thomas Iwanowski said he doesn't believe the priest who stayed in the parish rectory for months is a child abuser.

Iwanowski is stepping down Wednesday amid a controversy over his friend, Monsignor Robert Chabak, who was accused of molesting a teenage boy during the 1970s and permitted to live in the church after his home was destroyed by Superstorm Sandy.

On Sunday, Iwanowski maintained that Chabak followed Newark Archdiocese restrictions that he stay in the living quarters except to attend Mass. He also said Chabak was not an abuser.

"I absolutely believe he's not guilty of those charges, that he's innocent," Iwanowski said in an interview, adding that an accusation of child sexual abuse against a priest is the "equivalent of being guilty" because of the publicity that surrounds such cases.

Chabak, 66, was stripped of priestly duties after the archdiocese found "sufficient evidence" of abuse. While he declared his innocence, he resigned in 2004 when the archdiocese planned to take action under church law, said Jim Goodness, spokesman for Archbishop John J. Myers. The statute of limitations had expired and Chabak was not criminally charged.

In May, the archdiocese received a second complaint that Chabak abused another teenage boy during the '70s. Iwanowski said he didn't know anything about that allegation.

Goodness said Sunday it didn't matter that Iwanowski believed Chabak, even though he was tasked with supervising the priest, because Chabak did what he was told while staying in the rectory.

The archdiocese has said Iwanowski resigned because some parishioners didn't like his leadership style. Parishioner Daniel O'Toole said last week that he disagreed with Iwanwsoki over several issues but that he believed the pastor was removed for "harboring a priest with a known history of sexual predation."

O'Toole said several parishioners were angered when they discovered Chabak's history. An elementary school is located across the street from the church rectory.

The archbishop appointed Monsignor David Hubba, the spiritual director of St. Andrew's College Seminary in South Orange, as pastor of St. Joseph effective on Friday. Goodness said Hubba is a "truly spiritual man who has a good sense of building community."

After the 10:30 a.m. Mass on Sunday, Iwanowski said he acted out of compassion when he helped Chabak. He said he didn't know that parishioners were concerned until the archdiocese received a complaint in February. That month, the archdiocese transferred Chabak to a retirement home in Rutherford.

"People who had a concern about this never expressed that concern to me," Iwanowski said. "If they expressed concern, I would have taken it into consideration."

Chaback has since returned to his shore home. But the archdiocese said he has occasionally stayed overnight at the rectory without permission.

During Sunday's Mass, Iwanowski apologized to parishioners, saying that during his three years as pastor, "I have made mistakes, yes, and I'm sorry for them, and I ask for your understanding."

Many in the pews rose in applause after his remarks. And at a reception afterward, parishioners lined up to say their goodbyes and pose for photos with him.

Ruth Ann Harneck, whose face was red from sobbing, hugged Iwanowski.

"We blame Father Tom for nothing — nothing more than under the circumstances of Sandy opening his heart to a friend," she said. "We have been robbed, by a few people who didn't like a Godly wonderful man. Most of us are crushed."

Harneck, a St. Joseph's parishioner for 40 years, also said she believed Chabak didn't do anything wrong.

"He was never convicted, only accused," she said. "You can accuse anybody."

Parishioner Pat Cassella said Iwanowski did a good deed by helping Chabak, but he was concerned that school children were so close to the accused priest.

"I don't know which [side] is right or which is wrong," he said.