Bulger Team Releases Photo of Defendant with Alleged Sex Abuser
By Andrew Rafferty
NBC News
August 1, 2013

http://usnews.nbcnews.com/_news/2013/08/01/19819002-bulger-team-releases-photo-of-defendant-with-alleged-sex-abuser?lite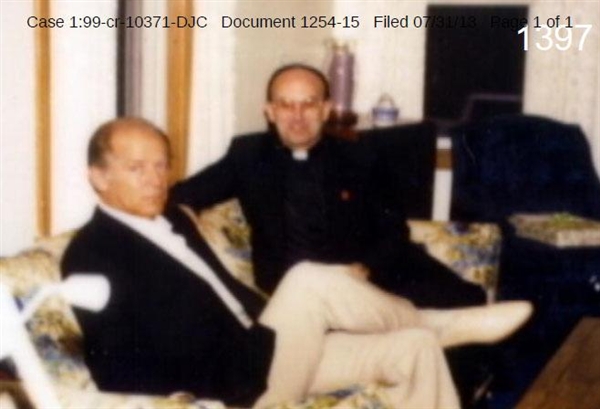 An attorney representing sex abuse victims identified the priest in this photo as Frederick J. Ryan, who was defrocked by the Vatican in 2006 after being accused of molesting two teens in the 1980s.



Newly released photos meant to portray the softer, human side of James "Whitey" Bulger include a picture of the Boston crime boss hanging with a priest defrocked by the Catholic Church for allegedly sexually abusing teenagers, according to an attorney who represented the accusers.

Boston lawyer Mitchell Garabedian confirmed to NBC News that a priest pictured with Bulger in one of the photographs released by the notorious gangster's defense team is Frederick J. Ryan, the former chancellor of the Boston archdiocese who was accused of abusing two teens in the 1980s.

Garabedian represented the two former Catholic Memorial High School students who successfully sued Boston's archdiocese in 2002. He said Ryan molested one of his clients in 1980 when the student was 16-years-old, and the other in 1981 when the boy was 15.

"Bulger has been painted as a villain, and this helped solidify that," said Garabedian.

The photo was one of several released by Bulger's defense team in the hopes of showing the one-time mob boss as a normal, easy-going guy with a soft-side for animals. A blurry photo of Bulger hanging out with a priest would seem to bolster the good-guy image his attorneys were going for.

But, Garabedian said, it did the exact opposite.

"Showing Whitey Bulger in a photograph with a serial pedophile does not help the defense one iota," he said.

Ryan was defrocked by the Vatican in 2006, according to the Boston Archdiocese website. The dismissal meant he could no longer receive the financial support of the church or be allowed to perform the public functions of a priest.

Garabedian said that while working for the school, Ryan lured the boys into a room in his home to show them his wall of athlete photographs. It was there where, his accusers say, the priest abused them.

Ryan was one of the highest ranking priests to be dismissed during the Catholic Church sex abuse scandal.

He served as the vice chancellor of the archdiocese for more than 20 years.