Catholic Brother Voluntarily Returned to Australia to Face Child Sex Abuse Charges, Court Hears
By Sarah Farnsworth
ABC News
September 4, 2013

http://www.abc.net.au/news/2013-09-04/american-catholic-brother-faces-court/4935738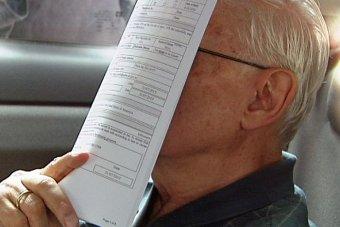 Catholic Brother Bernard Hartman has been charged over the abuse of four children.



A court has heard a Catholic Brother from America voluntarily returned to Australia to face allegations of child sex abuse.

73-year-old Bernard Hartman appeared in the Melbourne Magistrates Court charged over the alleged abuse of four children during his time at St Paul's college in the 1970s and 80s.

The Prosecution told the court his alleged victims are two boys and two girls aged between six and 16 and the alleged crimes took place both at the college and the homes of the children.

The court heard the first complaint against Hartman was made in 2003, but no action was taken until more complaints came forward last year.

The court was told Hartman returned to Australia to face the allegations and will be bailed once the Department of Justice issues a criminal justice visa.

One of the complainants has been fighting for Hartman to face court for years.

"When I first found out (of his return) my stomach flipped upside down," she said.

"I have been fighting for his arrest for years...but I am not getting my hopes up just yet."

Outside court, Detective sergeant Doug Smith said Victoria Police has been negotiating with the Catholic Church to get Hartman back to Australia.

He said Hartman has been co-operative about returning to face the allegations.

"Negotiations took a considerable time...this has been a long time coming," he said.

Police are yet to interview Hartman.

He will return to court in November.