New Lawsuit Filed against Archdiocese over Ex-priest Daniel Mccormack
By Leeann Shelton
Chicago Sun-Times
September 4, 2013

http://www.suntimes.com/news/metro/22367609-418/new-lawsuit-filed-against-archdiocese-over-ex-priest-daniel-mccormack.html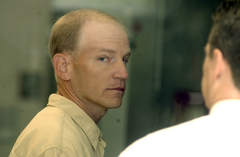 Daniel McCormack stands in a security line at 26th & Calif. to plead guilty to charges involving sexual abuse of five boys.File photo. Brian Jackson/Sun-Times



A former student at a West Side Catholic school is suing the Archdiocese of Chicago, claiming convicted former priest Daniel McCormack molested him 10 years ago.

McCormack pleaded guilty in 2007 to abusing five children while he was a parish priest at St. Agatha Catholic Church. He was removed from the priesthood in November of that year and sentenced to five years in prison.

The anonymous plaintiff claims McCormack fondled him on two separate occasions between 2003 and 2004, when the boy was between 11 and 12 years old, the suit said.

The plaintiff, who is now 20, was a student at a Catholic school affiliated with St. Agatha, the suit said. McCormack was appointed pastor of the parish in 2000, and also coached basketball and taught math.

Lawyers for the plaintiff claim the Archdiocese of Chicago already knew of previous allegations that McCormack had inappropriate contact with children and fellow seminarians, but failed to stop him.

A spokesman for the archdiocese could not immediately be reached for comment Wednesday night.

The Archdiocese of Chicago reached a $12.6 million settlement in 2008 with 16 survivors of clergy sexual abuse, two of whom claim they were molested by McCormack, the Sun-Times then reported.

In 2011, the archdiocese agreed to pay $3.2 million to another man, who was abused by McCormack between the ages of 10 and 12.

Wednesday's lawsuit, filed in Cook County Circuit Court, alleges the plaintiff continues to suffer from severe emotional distress.

It claims negligence and willful and wanton conduct against both the archdiocese and Cardinal Francis George, and seeks at least $150,000 in damages.