Bishop Criticised after Murphy Report Gets Additional Responsibilities
RTE News
September 11, 2013

http://www.rte.ie/news/2013/0911/473615-bishop-eamonn-walsh/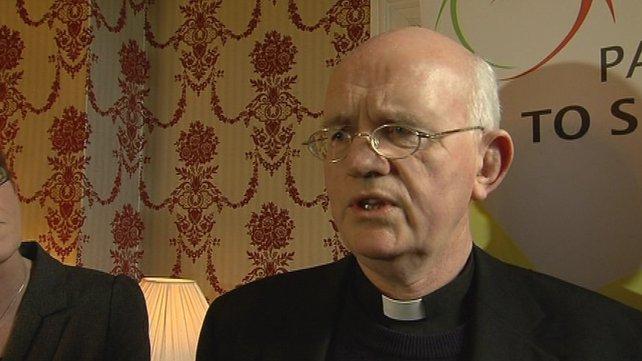 Eamonn Walsh had said it would be unjust if he was forced to resign in the wake of the Murphy Report



Archbishop Diarmuid Martin has given additional responsibilities to Auxiliary Bishop Eamonn Walsh, who he criticised in the wake of the Murphy Report four years ago.

Bishop Walsh, whose resignation was rejected by Pope Benedict following the Government-commissioned report, has been made head of the newly-established Office for Clergy in the Dublin Archdiocese.

The additional duties will see him co-ordinating all aspects of the theological and pastoral formation and pastoral care of the archdiocese's 413 priests.

The 69-year old has served as an auxiliary bishop of Dublin for 23 years.

Between 2002 and 2006, he also administered the diocese of Ferns following the resignation of Bishop Brendan Comiskey over his attempted cover-ups of child sexual abuse scandals.

Dr Walsh liaised with the Government-appointed investigation which produced the Ferns Report in 2005.

In December 2009, following the publication of the Murphy Commission's exposé of four decades of similar cover-ups in the Dublin Archdiocese, Archbishop Martin said he was "not satisfied" with some of the responses from auxiliary bishops who had served while what he called "the revolting story" was unfolding.

Bishop Walsh responded by telling journalists it would be unjust if he was forced to resign.

However, three weeks later, in an announcement to Christmas massgoers, Bishop Walsh and fellow-Auxiliary Bishop Ray Field announced they had tendered their resignations to Pope Benedict.

They said they hoped their actions "might help to bring Christ's peace and reconciliation to the victims and survivors of child sexual abuse" to whom they reiterated their apologies.

Subsequently, Pope Benedict rejected both bishops' resignation offers.

The move was widely perceived as a rap on Archbishop Martin's knuckles by the Vatican.

As a priest between 1987 and 1990, Eamonn Walsh served as secretary to Dublin's most senior bishops, including Archbishop Desmond Connell.

Last July, a previously redacted section of the Murphy Report stated that during those years, Fr Patrick McCabe, a serial child abuser, was shielded from the civil authorities by the Archdiocese, despite its bishops knowing that he was sexually abusing children.

According to the report "the matter of Fr McCabe was on the agenda at all the auxiliary bishops' meetings in early 1988 ... As far as the bishops were concerned, their options were either to let him go to the USA where, according to a note of the bishops' meeting, he could take medication and therapy, or stay in Ireland and end up in Mountjoy".

"The bishops decided to let him go to the USA," the report continues.

"They effectively set him loose on the unsuspecting population of Stockton, California. There is no record that they notified the bishop of Stockton of his arrival..."

Two years later, in April 1990, Fr Walsh was promoted from his role as Archbishop Connell's Secretary to the office of Auxiliary Bishop of Dublin.