St. Louis Archbishop to Testify in Priest Abuse Case
KMOX
September 18, 2013

http://stlouis.cbslocal.com/2013/09/18/st-louis-archbishop-to-testify-in-priest-abuse-case/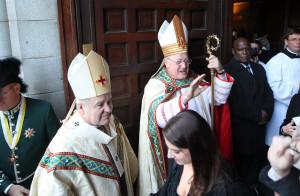 ardinal Timothy Dolan of New York (R) and St. Louis Archbishop Robert Carlson greet friends following the funeral of former St. Louis Cardinals and National Baseball Hall of Fame member Stan Musial at the Cathedral Basilica of St. Louis in St. Louis on January 26, 2013. Musial died at the age of 92 on January 19



ST. LOUIS (KMOX) - St. Louis Archbishop Robert Carlson is scheduled to face questions under oath this week in a sexual misconduct case involving a Catholic priest under his authority and allegations of witness tampering.

The case involves a longtime Carlson associate, Father Joseph Jiang. Jiang is accused of molesting an underage girl in Lincoln County in recent years and accused of attempted witness tampering in the form of a $20,000 check allegedly left on the car on the victim's family.

Jiang was an Associate Pastor at the Cathedral Basilica and lived in Carlson's private residence in St. Louis.

David Clohessy with the Survivors Network of those Abused by Priests (SNAP) says Carlson may face some tough questions from a Lincoln County prosecutor.

"I would hope the prosecutors will ask Archbishop Carlson, 'did you know about the check in advance? Was it Father Jiang's money of the Archdiocese's money?' and 'why did you try to get your hands on it?'" Clohessy said.

Carlson is accused in a separate civil suit of calling the victim's mother and asking her to give him the check. The archdiocese has denied those allegations.

Carlson's deposition is scheduled for Thursday at the Rigali Center in Shrewsbury. Clohessy says Carlson could refuse to testify on grounds that he may incriminate himself.