Ramsey Co. Attorney: Archdiocese's Response to Priest's Misconduct "Troubling"
By Madeleine Baran
Minnesota Public Radio
September 23, 2013

http://minnesota.publicradio.org/display/web/2013/09/23/clergy-abuse/archdiocese-statement-on-priest-abuse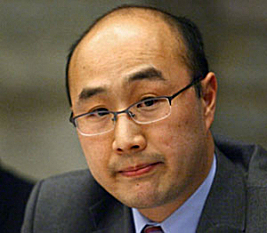 Ramsey County Attorney John Choi praised the archdiocese in 2012 for their handling of the Wehmeyer case. Today, he says, he finds the revelations outlined in MPR News' investigation into the case "troubling." (Alex Kolyer for MPR/File 2012)



Ramsey County's top prosecutor says he's deeply concerned about the way the Archdiocese of St. Paul and Minneapolis handled the case of a priest who was known to be a sex addict -- and who was later convicted of child sexual abuse.

An MPR News investigation found that Catholic Church leaders did not alert parishioners to the Rev. Curtis Wehmeyer's past, and didn't immediately report allegations of abuse to police.

Wehmeyer would later plead guilty to abusing two boys in his parish. Ramsey County Attorney John Choi told MPR News today that he found the report "troubling."

"Nothing has been presented to our office in terms of reviewing any of the issues that were raised in the MPR report this morning," he said, "but we will be in contact with the St. Paul Police Department to discuss this matter."

Choi would not specify which aspects of the report troubled him. The archdiocese issued a statement today on the Wehmeyer case, saying their "handling of past concerns could have been better addressed."

The Archdiocese of St. Paul and Minneapolis' full statement:

The Archdiocese of St. Paul and Minneapolis deeply regrets the harm Curtis Wehmeyer caused his two young victims, their family and others in our community. We did act swiftly when the allegations of sexual abuse of a minor by Wehmeyer were made in June 2012. In hindsight and in light of what we now know, we also recognize that our handling of past concerns could have been better addressed.

Over the past year, a working group of lay and clergy leaders has been reviewing archdiocesan policy regarding clergy sexual abuse of minors and vulnerable adults, as well as other misconduct in Church ministry. The archdiocese has been taking these steps to ensure that our policies continue to build on best practices, such as clearly defined roles for groups which review clergy misconduct and firmly establishing that acquiring, possessing or disseminating child pornography constitutes sexual abuse of a minor.

Our first priority is to create and maintain safe environments where the Gospel of Jesus Christ can flourish. This means ensuring that clergy, employees, volunteers, and the young are aware of healthy boundaries and the societal problem of sexual abuse. It also means creating an environment for and implementing productive steps to promote a healthy clergy.

If you or someone you know has been the victim of sexual abuse in Church ministry, you are urged to call the police or other civil authorities. You are also invited to call the Archdiocese's Director of Advocacy and Victim Assistance at 651-291-4497.