Former Miss. Priest Convicted of Sexually Assaulting Child in W. VA
By Ruth Ingram
The Clarion-Ledger
September 23, 2013

http://www.clarionledger.com/article/20130923/NEWS/309230030/Former-Miss-priest-convicted-sexually-assaulting-child-W-Va?gcheck=1

A Catholic priest convicted last week in federal court of child sex charges decades ago served in five Mississippi parishes – his first assignments after taking his holy vows.

Fr. Robert "Bob" Poandl was found guilty in U.S. District Court in Cincinnati of federal child sex charges that he transported a 10-year Cincinnati old boy to Spencer, W. Va., in August 1991 where he sexually assaulted the child.

Poandl worked from 1968-73 in Aberdeen, Amory, Okolona, Houston, and Fulton, according to the records of SNAP, the Survivors Network of Those Abused by Priests.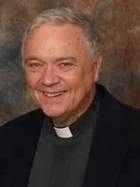 Father Robert 'Bob' Poandl, convicted last week in U.S. District Court of molesting a 10-year-old boy in West Virginia in 1991, formerly worked as a priest in five Mississippi cities. / Special to The Clarion-Ledger



"This victim and his family are very brave," Judy Jones of SNAP said today of the child abused by Poandl in 1991. "They are to be commended for their courage and determination to seek justice and to keep this child predator far away from kids for a long time."

Jones urges anyone who was a victim of Poandl, or who knows a victim or a situation of abuse, to call prosecutors.

"Poandl will be sentenced in approximately two months, so it is important for anyone who may have information to come forward," she said.

The organization "begs Bishop Joseph N. Latino of the Jackson diocese to use his vast resources to reach out to other victims and urge them to contact law enforcement," the group's news release said today.

Poandl belongs to a Fairfield, Ohio-based Catholic religious order Glenmary Missioners, which provides priests to rural areas of the country, SNAP says. Besides Mississippi, Poandl worked in parishes in Ohio, Oklahoma, Pennsylvania, Texas, Kentucky, Louisiana, and most recently in Georgia, SNAP says.

"He has been transferred roughly 30 times in 44 years. That alone is a serious red flag," said David Clohessy of St. Louis, national director and spokesman for SNAP.

The Cincinnati Enquirer reported that according to testimony that began Monday, Poandl took the boy, with his mother's permission, on an overnight trip to a rectory in West Virginia. Once there, the newspaper reported,Poandl awakened the boy in the middle of the night by having sex with him.

The victim told authorities that after the act, Poandl said they had just sinned and needed to pray to God for forgiveness, the newspaper reported. The victim, who now is in his 30s and testified at the trial, didn't tell anyone about the assault for 18 years, the newspaper reported.

Poandl had been relieved of his ministerial duties in 2012 after federal charges were lodged. It was the second time he'd faced allegations in the boy's molestation. He was to be tried in West Virginia in 2010, but a judge dismissed the charges after the state judge ruled not all of the accuser's medical records had been turned over to him as requested, SNAP officials said.

Federal prosecutors, however, were able to bring Poandl to trial because he was accused of taking the boy across state lines, with a criminal charge of transporting a minor for illicit purposes.

Poandl also has been accused of molesting other children, including a 10-year-old altar server in the 1980s at St. Francis of Assisi Catholic Church in Blairsville, Ga.