Catholic Diocese of Trenton Issues Statement on Jackson Priest Involved in Sexting Scandal
Ocean Signal
September 30, 2013

http://www.oceancountysignal.com/2013/09/30/catholic-diocese-of-trenton-issues-statement-on-jackson-priest-involved-in-sexting-scandal/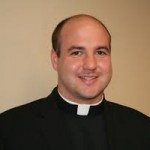 Fr. Matthew Reidlinger. Trenton Monitor.



JACKSON-Last week, the Diocese of Trenton issued a statement regarding complaints lodged against Father Matthew Riedlinger, a priest formerly serving at the St. Aloysius Church here. Riedlinger was ordained a priest in the diocese on June 5, 2010. He was a student at St. Peter Parish in Sandusky, Ohio before attending the Catholic University of America in Washington, DC, where he studied philosophy.

Prior to his time at St. Aloysius, he served seminarian assignments at St. Margaret in Spring Lake and St. Barnabas in Bayville.

Questions have recently been asked of the Diocese concerning the status of Father Matthew Riedlinger and his ministry as a priest. Father Riedlinger had been the subject of two complaints to the Diocese over the past few years regarding his participation in inappropriate cell phone text communication over a period of some years with adults. There was no sexual contact, assault or abuse referenced in the complaints.

Upon receiving these complaints, the Diocese immediately turned the information over to the Ocean County Prosecutorís Office. In both cases, law enforcement investigated and advised that no minors were involved and no criminal acts were committed.

From first being made aware of these charges, the Diocese addressed the misconduct with Father Riedlinger, arranging for him to receive outpatient counseling. When we learned that the conduct had persisted, he was immediately removed from his parish assignment and placed in a residential, in-patient treatment program.

Following his release from the in-patient program after several months, Father Riedlinger was assigned to a supervised residential setting in the Diocese where he continues to follow his prescribed post-treatment program. He may not minister in a parish or school setting, but may exercise a very restricted ministry, only with the permission of the Diocese in each instance.

The recent questions about Father Riedlinger were spurred by his participation several weeks ago in the funeral Mass of a brother priest. This is the only public Mass that Father Riedlinger has engaged in since his treatment program began and he was given permission to take part only because he was assisting Bishop Smith who is unable to walk.

While we have been advised that no laws have been broken, no sexual contact and no minors were involved, the conduct that Father Riedlinger has engaged in is, without question, deeply troubling and is in no way to be tolerated in the life and ministry of a priest.

Determining that media coverage will impede his efforts to recover from the problems that have unfolded, Father Riedlinger has decided to leave the Diocese and has asked for an indefinite leave of absence from the priesthood. Bishop OíConnell has granted his request, effective immediately.

We urge anyone who feels that they have been the victim of any sexual abuse by a representative of the Church to contact his or her local law enforcement authorities and to notify the Diocese at -1-888-296-2965.

We ask you to pray for Father Riedlinger as he works through the problems that have led to these inappropriate acts as well as for any individual who may have been hurt by his conduct.