Duluth Bishop Criticized for Handling of Abuse Allegations
By Peter Passi
Duluth News Tribune
October 9, 2013

http://www.duluthnewstribune.com/event/article/id/280013/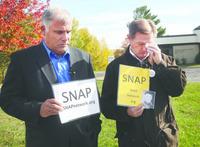 Verne Wagner (left), Northern Minnesota director of the Survivors Network of those Abused by Priests, and David Clohessy, director of SNAP, take a moment before their news conference Tuesday to remember those who were abused by clergy.



A pair of victims' rights advocates took Bishop Paul Sirba to task Tuesday for his handling of allegations that Father Cornelius Kelleher had sexual relations with an underage girl during his tenure at St. Joseph's Church in Chisholm.

A pair of victims' rights advocates took Bishop Paul Sirba to task Tuesday for his handling of allegations that Father Cornelius Kelleher had sexual relations with an underage girl during his tenure at St. Joseph's Church in Chisholm.

David Clohessy, the national executive director of the Survivors Network of those Abused by Priests, and Verne Wagner, SNAP's Northern Minnesota director, maintain that the Duluth diocese failed to follow the U.S. Catholic Church's own policies when it

didn't notify law enforcement authorities of a report that Kelleher had sexual contact with a minor.

The United States Conference of Catholic Bishops' Charter for the Protection of Children and Young People says: "The Charter acknowledges the role of the public authorities in matters of sexual abuse of minors by clergy in Article 4, which requires dioceses and eparchies to report any and all allegations involving minors to the authorities in accordance with civil law, and to cooperate with those authorities during investigations of these matters. All dioceses and eparchies examined during 2012 included mandated reporter language in their policies and procedures, as applicable."

During a Monday morning news conference, Sirba told reporters that the diocese contracted privately with a police officer to investigate the allegations against Kelleher, which involved charges that he engaged in improper sexual relations while assigned to Chisholm between 1975 and 1986. The abuse was reported to the diocese in September 2012, a few months after Kelleher's retirement.

In response to a follow-up question Monday evening, Kyle Eller, communications director for the diocese, clarified the bishop's statement, saying that "he meant that the investigator the diocese contracted is also a police officer. It was not a law enforcement investigation."

Clohessy contends the diocese's investigation did not pass muster.

"If you look at bishops' abuse policies either locally or nationally, you will not find the phrase: 'When abuse is suspected, we'll hire someone ourselves rather than call 911.' That's not what they promised to do. That's not what they should do. That's not what any responsible adult does," he said.

Clohessy considers a private investigation a poor substitute for a criminal investigation.

"Someone who I pay is going to answer to me. Someone who I pick and I hire is going to be beholden to me and is going to be tempted to skew his or her reports in a way that will please me," he said.

"They're violating their own policies. And I suspect they're also violating secular laws, but I know they're violating common sense and common decency, because there's absolutely no reason — unless you're interested in covering up and protecting yourself and your clerical career and your reputation — there's absolutely no reason not to call 911 if you suspect child sex crimes, regardless of when they may have taken place," Clohessy said.

Sirba and Eller declined interview requests Tuesday but responded to the criticism by issuing a written statement.

"Bishop Paul Sirba made clear at his press conference yesterday morning the primary reason the diocese notified the faithful and the public about a credible allegation of sexual abuse against Father Cornelius Kelleher. That purpose was to reach out to anyone else who may be a victim of clergy sexual abuse, urging them to come forward both to civil authorities and to the diocese. It is also a matter of following church policies in place since 1992 to protect young people," the statement reads.

"When the allegation was made, Father Kelleher was already retired. The victim was an adult. She decided that she did not want to go to the authorities and asked us to respect her privacy.

"However, she wants to take steps to ensure no one else suffers abuse — goals we share and want to honor. Even in the absence of a civil investigation, when an allegation is made, the church conducts its own investigation using an outside investigator. When that investigation found the allegation against Father Kelleher to be credible, Bishop Sirba immediately removed Father Kelleher from public ministry, making him unable to function as a priest. This was done to protect young people. A report of these decisions was prepared and then submitted to Rome for review. When that review took longer than expected, diocesan officials decided to go forward with a public notification last weekend to reach out to any other potential victims."

Kelleher was stripped of his "father" title and removed from any public church service in October 2012, according to Sirba, who notified church members of the action last weekend.

"They didn't promptly share that information with the police, the parents, the parishioners, the prosecutors or the public," Colhessy said.

Wagner said he was concerned by the yearlong delay that followed before others were notified of the allegations, stirring his fears a possible cover-up.

"If there are reports that this priest molested kids in other parishes where he was assigned, they've had a chance now to go through all their files and purge them," Wagner said. "And that really limits their liability when it comes to a lawsuit."

Sirba also has recently been in the news for his role as vicar general of the St. Paul-Minneapolis Archdiocese, where he has been criticized for his handling of allegations of sexual abuse by Farther Curtis Wehmeyer and another priest whose computer was found to contain pornography, including apparent depictions of underage children involved in sex acts.

Tuesday's statement from the Duluth diocese responded to criticisms of him made by a mother whose children were allegedly abused by Wehmeyer. It said Sirba "addressed accusations in an unrelated situation in the Archdiocese of St. Paul and Minneapolis. The bishop stated, in an interview (in the Minneapolis Star Tribune published Tuesday), that he did not knowingly participate in any cover-up and that he reached out to the victims' mother for the protection of her children."

Clohessy said that until the church begins to follow its own policies regarding reports of sexual abuse involving children, he sees little hope of improved outcomes.

"Words on paper don't protect kids. Decisive action protects kids," he said.