Father Eugene Sullivan, Educator and Pastor Granted Senior Priest Status
The Pilot
October 11, 2013

http://thebostonpilot.com/article.asp?ID=16516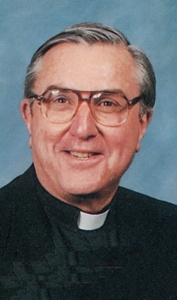 Father Eugene Sullivan Pilot file photo



Cardinal Sean O'Malley has granted senior priest/retirement status to Father Eugene P. Sullivan. Until July 1, 2013 he had been pastor at St. Francis Xavier parish in Weymouth.

Eugene Sullivan was born in Boston's Brighton section on May 3, 1936; his parents were the late Jeremiah and Mary Sullivan who raised their family in St. Columbkille parish. Young Gene completed his elementary school studies at the parish school (1949) under the watchful eye of the Sisters of St. Joseph. He went across the city to Boston College High School (1953) and returned to the easier commute at Boston College graduating in the class of 1957. He received an M. Ed. from Boston State College in 1958 on for the next five years taught in the Woburn Public Schools (1958-1963).

He entered St. John's Seminary in the fall of 1963, a member of the class of 1968. Following his ordination by Cardinal Cushing at Holy Cross Cathedral on May 29, 1968 he was appointed assistant at St. Joseph Parish in Holbrook, serving there until 1971.

His previous experience both in graduate work and in classroom experience marked him as a man of education. From 1971 to 1976, while living in residence at St. Mary Rectory, Walpole (1971-1976) and at St. Patrick, Roxbury (1976-1987) he completed graduate programs first at Boston University obtaining the CAES; then returning to his alma mater, Boston College received D. Ed. in 1981. During this time he had been appointed associate superintendent of schools of the archdiocese (1972-1976) and concurrently assistant director of education of the archdiocese (1974-1976).

Three days before the nation's bicentennial, on July 1, 1976 he was named Superintendent of Schools of the archdiocese, a position he held for the next decade plus one year (1976-1987).

Father Sullivan not only lived in residence in the parishes but was very active in the parish life even in the midst of a very demanding schedule in the Archdiocesan School office. He justly cites that in his curriculum vitae.

Following a sabbatical in the fall of 1987, he was named pastor of St. Peter Parish in Dorchester. The parish had changed demographically over the years, symbolized perhaps by the lowering of the tower which had been visible to generations of commuters on the Southeast Expressway. With enthusiasm, Father Sullivan jumped into the changing but active parish. He served there for almost the next decade until Cardinal Bernard Law named him pastor at St. Francis Xavier Parish in Weymouth succeeding fellow BC High alumnus Bishop John McCormick who had been named Regional Bishop of the South Region the previous December.

Weymouth was definitely different from Dorchester and probably reminded Father Sullivan more of the activity and size of his boyhood parish. There was a large parish school, Sisters of St. Joseph were still in evidence, and there was a lot of activity and many activities. This would be the longest of Father Sullivan's assignments lasting almost 18 years until his retirement on July 1, 2013.

Father Sullivan told us he "has loved all his assignments" and has been greatly appreciated in them as well. He has been and remains an active alumnus of both BC High and Boston College wearing the Golden Eagle given in 2007 to him and his classmates with great pride.

Never really "retiring" either in personality or in activity, Father Sullivan will be senior priest in residence at Sacred Heart Parish, Roslindale with his seminary classmate, Msgr. Francis Kelley. The two were among several "new seniors" (as those who had already completed college degrees were called by the seminary "lifers") entering the ordination class of 1968 in 1963. Each had once been a student at BC High; though as Father Sullivan would tell you, he "took the better part and went to Boston College"; Msgr. Kelley went to Holy Cross.