Lawsuit Alleges Abuse by U of St. Thomas Priest
By Leslie Dyste
KAAL
October 14, 2013

http://www.kaaltv.com/article/stories/S3190794.shtml?cat=10728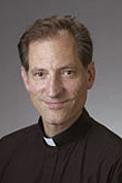 Father Michael Keating



A woman is suing a university priest and professor in St. Paul for alleged sexual abuse beginning when she was 13 years old.

The civil lawsuit against the Rev. Michael Jerome Keating of the University of St. Thomas was filed Monday in Ramsey County.

The lawsuit accuses Keating of "unpermitted, harmful and offensive sexual contact" with the woman between about 1997 and 2000, when he was a seminary student.

Keating did not return calls to his office phone or emails Monday seeking comment. St. Thomas spokesman Doug Hennes said Keating went on voluntary leave Sunday, but he wouldn't say why.

The plaintiff says she approached St. Paul-Minneapolis Archdiocese officials with her claims in 2006. Archdiocese spokesman Jim Accurso said he couldn't immediately comment.