St. Thomas Priest Sued; Woman Alleges Repeated Sexual Abuse As Minor
By Emily Gurnon and Andy Greder
Pioneer Press
October 14, 2013

http://www.twincities.com/stpaul/ci_24305835/st-thomas-priest-be-sued-sexual-contact-alleged

[the lawsuit - Jeff Anderson & Associates]

[Rev. Michael Keating photo]

[statement of Doe 20]

[letter to Doe 20 from the archdiocese]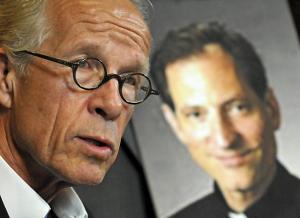 Attorney Jeff Anderson discusses a lawsuit he filed on behalf of an adult female alledging sexual abuse against Fr. Michael J. Keating, a tenured professor at the University of St. Thomas, at his law office in St. Paul on Monday, October 14, 2013. (Pioneer Press: John Doman)



He was a trusted family friend, a fixture at weekend meals and holiday gatherings. And every Sunday for three or four years, a Twin Cities woman alleged Monday, the now-Rev. Michael Jerome Keating sexually abused her in her home.

It started when she was 13, the woman said. Keating, nearly 30 years her senior, was attending St. Paul Seminary at the time, preparing for the priesthood.

After she confronted him, he gave her a car -- his used Ford Escort. He also paid off a $20,000 student loan for her, making the final payments in recent months.

"Dealing with what he did to me is an hourly battle," she said in a telephone interview after her attorney filed a lawsuit in Ramsey County District Court alleging sexual battery. "It was very subtle and all in the guise of love."

Keating, 57, an associate professor in Catholic studies at the University of St. Thomas, announced over the weekend that he was taking a leave from the archdiocese.

He was teaching two classes during the fall semester and was scheduled for two more in the spring semester, according to the university's website.

Keating did not return a call made to his St. Paul home Monday afternoon.

James Accurso, spokesman for the Archdiocese of St. Paul and Minneapolis, declined to comment other than to confirm that Keating had taken a voluntary leave.

A spokesman for St. Thomas, Doug Hennes, said he could not comment on the lawsuit.

The lawsuit alleges that from 1997 to 2000, Keating "engaged in multiple instances of unpermitted, harmful, and offensive sexual contact" with the girl, who was identified as Jane Doe 20. She is now in her late 20s.

He fondled her breasts and had her lie on top of him while he was aroused, she said. He woke her up in the middle of the night to ask for a back rub, she alleged. He French-kissed her when she didn't even know what a French kiss was, said her attorney, Jeff Anderson.

It was confusing, she said, because it felt as if Keating cared about her. She believed he loved her. And she loved him, her attorney said.

In 2004, she confronted Keating, but the conversation ended only with more pain.

"He twisted things so much that by the end, I was apologizing to him," she said. He told her, "You're just an angry girl, and everything I've ever done has been out of love," she alleged.

Years after the abuse, she tried to commit suicide twice, the woman said. She was hospitalized both times.

"The pain of the abuse didn't stop," the woman said. "What he did to me was so internally damaging that I forgot who I was."

Keating was ordained in 2002 and served as a priest at St. John the Baptist church in New Brighton from 2003 to 2005, according to the lawsuit.

Anderson said at a Monday news conference that an "independent review board" examined the woman's claim in 2006, when she first reported it to archdiocese officials. She was 19 at the time.

She met with then-Archbishop Harry Flynn, then-Vicar General Kevin McDonough, then-Chancellor of Civil Affairs Andrew Eisenzimmer, victim advocate Greta Sawyer and the Clergy Review Board, the lawsuit said.

Going before the board felt as if she were being victimized all over again, the woman said.

The members -- an architect, a doctor, a therapist, two priests -- could ask any question. She was pressed over and over for details.

"If a man 30 years older than me is touching my bare chest -- I need to go on?" she said. "I thought that they were trying to prove me wrong and keep him in ministry."

Barbara Dorris, outreach director of SNAP, the Survivors Network of those Abused by Priests, said in a statement, "This kind of callousness is one reason we urge victims to report to law enforcement officials, not church officials. It's heart-breaking to think about how hard this was on the victim."

The woman was sure the archdiocese would believe her "because I don't lie," she said.

"I don't lie. And I think if I were going to come up with a story about sexual abuse by a priest, I could have been a little more creative," she said.

She also went to law enforcement in approximately the same time period. Anderson said her parents reported the case to the Chisago County sheriff's office, which investigated but did not file charges. A member of that department did not return a call for comment Monday afternoon.

Sawyer, the victim advocate for the archdiocese, sent a summary of the Clergy Review Board's findings to the woman's father, along with a letter, in November 2007.

It was devastating.

"Based on the record as a whole, the board finds that there is insufficient evidence to support a finding of sexual abuse of a minor ...," the summary said.

The board "does not believe that the priest's faculties should be suspended, given his effectiveness in many areas of his work," the summary said.

It did recommend Keating be "restricted in activities in the nature of retreats, spiritual counseling, or mentoring, particularly of adolescents or young adults." It also recommended that he be assigned a supervisor with "ecclesiastical seniority."

Accurso said the archdiocese would not comment on whether any restrictions or supervision took place.

The woman decided last week to come forward because of the recent news about other allegations involving the Twin Cities archdiocese.

Keating lives at the same priest residence on the St. Thomas campus as the Rev. Reginald Whitt, according to public records.

Whitt was appointed Oct. 5 to choose members of a new Safe Environment and Ministerial Standards task force, which the archdiocese has said will be independent. Its charge is to examine policies and procedures of the archdiocese in the area of clergy misconduct.

The task force was formed after press reports on archdiocesan officials failing to report evidence of sexual misconduct by priests in two cases.

The woman said Monday that since going public with her story she has felt a tremendous relief.

"I don't think my life is ever going to be the same now, and that is really cool," she told a reporter, her voice breaking. "I feel free. I'm not scared. I feel proud of myself. I feel excited for what it means not just for me but for other kids."

In addition to his tenured position at St. Thomas, Keating is the manager of the Rome Program and the founder and director of the Habiger Institute for Catholic Leadership.

He has spoken and led retreats at national and international venues, according to his biography on the website of Crisis magazine.

He gave presentations four times in late September and early October in the archdiocese's Rediscover series, according to the archdiocese website.

Keating holds a doctorate in history from the University of Notre Dame and a theology degree from Dominican Pontifical University of St. Thomas Aquinas in Rome. He earned his undergraduate degree from the University of Michigan.

Andy Greder contributed to this report. Emily Gurnon can be reached at 651-228-5522. Follow her at twitter.com/emilygurnon.