Priest Remained in Ministry Despite Awareness of Allegations
By Emily Gurnon
Pioneer Press
October 18, 2013

http://www.twincities.com/crime/ci_24342074/memos-priest-remained-ministry-despite-awareness-allegations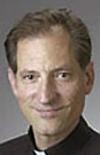 Rev. Michael Keating (Courtesy photo)



The Twin Cities archdiocese was aware of allegations in 2006 that the Rev. Michael Keating had at best emotionally intense and at worst sexually abusive relationships with as many as four young women or girls, yet kept him in ministry during the course of its two-year internal investigation, according to memos from a high-ranking official.

A series of five memos obtained by Minnesota Public Radio details steps taken by the Rev. Kevin McDonough, then-vicar general of the Archdiocese of St. Paul and Minneapolis, in response to allegations about Keating.

The investigation appeared to begin when a young woman from Chisago County reported to McDonough and other officials that Keating had molested her when she was 13. McDonough said in a Feb. 2, 2006, memo to the archbishop that archdiocese officials had either turned the case over to law enforcement or were about to do so.

The Chisago County attorney's office declined to file charges after a 2006 investigation.

The young woman filed suit Monday in Ramsey County District Court against Keating, alleging sexual battery. Keating, 57, took a leave as a religion professor at the University of St. Thomas. He has denied the allegations.

Keating's attorney said in a written statement Thursday that the allegations in the lawsuit are "false and highly defamatory."

University spokesman Doug Hennes said Friday that St. Thomas hired an outside law firm this week to conduct an independent review of the allegations regarding Keating. He declined to name the firm or to comment on how much the university knew when the archdiocese was investigating.

McDonough wrote to then-Archbishop Harry Flynn on Feb. 2, 2006, to give him a summary of the investigation. He noted that archdiocese attorney Andy Eisenzimmer was "fully informed."

The vicar general cited the cases of four women.

One was the former Chisago County teenager. McDonough called her allegations "challenging," but said "she recalls only one such (sexually abusive) incident, which involved Michael Keating rubbing her chest for a prolonged period of time."

A second girl or woman was involved in a relationship with Keating, before he was a priest, "that she found deeply confusing." Keating spent "many, many hours in their home and was very attentive to her," McDonough said. When she talked later with Keating, "he seemed both unaware of any inappropriateness and unwilling to take any responsibility in the relationship," McDonough wrote.

In addition, McDonough said he talked with an individual, whose name is redacted from the memo, who "believes that Michael Keating had very emotionally intense and perhaps physically sexual relationships with two underaged young women."

One of those was an Italian girl whom Keating met when he was studying for the priesthood in Rome.

"A number of people have commented on the intensely connected emotional relationship that Michael Keating and (the girl) had, and a variety of kisses and other embraces that were publicly visible," McDonough wrote.

She later traveled to Minnesota for his ordination. When reached by Eisenzimmer, she said that Keating had done nothing improper.

The other young woman was part of a family with whom Keating lived some years earlier. According to the person who reported the information to McDonough, she "is still carrying a great deal of emotional distress because of the relationship that she had with Michael Keating."

At best, McDonough told the archbishop, Keating "has a deep inability to understand when a relationship with a woman has crossed emotional boundaries." A possibility "far more painful to imagine" is that sexual abuse occurred, which would require the archdiocese to remove him from ministry.

Since the Chisago County case was being turned over to the sheriff's office there, "I do not think we should take any steps for limiting his ministry currently," McDonough wrote. "The police will want to perform their investigation unimpeded."

Neither McDonough nor Flynn responded to requests seeking comment. An archdiocese spokesman declined to comment about the memos because they concerned an active investigation. The documents were posted on the websites of MPR and attorney Jeff Anderson, who represents the former Chisago County woman.

On Feb. 3, 2006, a day after his summary memo to Flynn, McDonough wrote again.

He told the archbishop and Eisenzimmer that he had spoken with a nun who had expressed concerns about Keating over the years.

The "bottom line" to that conversation, McDonough wrote, was that she was certain Keating had never committed a sexual act with any underage girl before or after his ordination.

"On the other hand, she expressed a great deal of concern about a longstanding pattern of behavior that she knows to have influenced several women, including herself," McDonough wrote.

"I proposed to her the phrase 'inattentive seductiveness' and she said that she thought that was very accurate," he wrote.

Keating "likes to have women in his life to whom he can pay a good deal of attention and who will pay attention to him. He engages them in long conversations, provides little gifts, sends emails. This sort of behavior has come across to at least four or five women whom (the nun) knows as something 'special' or 'romantic.' "

When confronted, Keating "tends to put the misunderstanding on the woman rather than on himself, and expresses surprise that he could be so misunderstood," McDonough wrote.

The vicar general said it was possible that Keating had made "predatorial sexual advances on women, above and below eighteen years of age, on the one hand, (or) a pattern of irresponsible emotional involvements."

McDonough said his conversation with the nun supported the latter.

McDonough wasn't convinced the situation was serious.

"I find it frustrating that there appear to be several people who have lots of speculations and concerns about the relationship between Father Keating and (the Italian girl), but none of them seems to know much about the young woman," he wrote in a Feb. 6, 2006, memo to Eisenzimmer.

"I am finding that this is characteristic of much of what is going on in the investigation surrounding Father Keating," McDonough wrote.

Three months later, McDonough met with Keating, he reported in a May 5, 2006, memo to Flynn, Eisenzimmer and then-Auxiliary Bishop Richard Pates.

McDonough asked Keating to explain what he had admitted to a fellow priest -- that he had a "passionate physical encounter" with the Italian girl.

If it meant what most people would assume, "namely, a fairly explicit sexual encounter," then "he would be subject to immediate dismissal from the priesthood," McDonough said he told Keating.

Keating said the words "did not mean what they might appear to mean on the surface," McDonough reported.

If that was true, McDonough wrote, there was one remaining issue, "an ongoing pattern of irresponsible seductiveness (non-sexual) in Father Keating's life."

In the meantime, the matter was examined by the Clergy Review Board of the archdiocese, which concluded in November 2007 that there was insufficient evidence of sexual abuse of a minor and that Keating should not be suspended.

It recommended, however, that he be restricted from doing "retreats, spiritual counseling or mentoring, particularly of adolescents or young adults."

McDonough recommended to Flynn on March 13, 2008, that they formally close the investigation of Keating and put in writing a statement that "clearly exculpate(s)" him. He also recommended that they meet with Dr. Don Briel, director of the Center for Catholic Studies at St. Thomas, to inform him of the conclusion of the investigation.

Briel referred questions Friday to the university spokesman.

Emily Gurnon can be reached at 651-228-5522.