Another Ruling Favors Milwaukee Archdiocese in Bankruptcy Case
By Annysa Johnson
The Journal Sentinel
October 23, 2013

http://www.jsonline.com/news/milwaukee/another-ruling-favors-milwaukee-archdiocese-in-bankruptcy-case-b99126801z1-229002471.html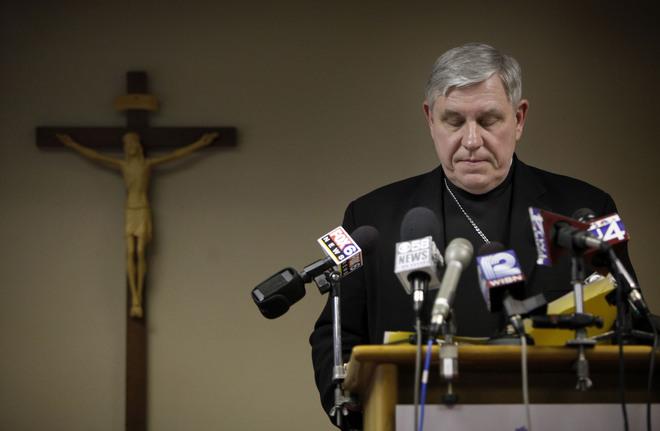 The Catholic Archdiocese of Milwaukee, which faces more than a dozen civil fraud lawsuits over its handling of clergy sex abuse cases, filed for Chapter 11 bankruptcy protection in January. As the case proceeds, we'll have updates, analysis, documents and more.



In a major victory for the Archdiocese of Milwaukee, a federal judge has ruled that a sex abuse victim, who was paid $80,000 in an earlier settlement, cannot seek additional compensation in the church's bankruptcy.

U.S. District Judge Rudolph T. Randa on Tuesday dismissed the claim of the victim, a deaf man molested by the late Father Lawrence Murphy, who alleged the archdiocese lied to him in meditation to get him to sign the settlement. If it stands, Randa's ruling could force the dismissal of nearly 100 of the 570-plus claims filed in the bankruptcy.

Milwaukee Archbishop Jerome Listecki was not available for comment. But Jerry Topczewski, his chief of staff, welcomed the ruling as "fair."

This is "another step forward...toward a plan of reorganization that will allow the Archdiocese of Milwaukee to emerge from bankruptcy," Topczewski said in an email.

Michael Finnegan, whose firm represents most of the victims in the bankruptcy, including this man, called the ruling a disappointment and said they are contemplating filing an appeal.

"We respectfully disagree with Judge Randa's reasoning," he said.

Randa's decision upheld an earlier ruling by U.S. Bankruptcy Judge Susan V. Kelley.

In pursuing his claim against the archdiocese, the victim, identified only as A-282, sought to admit into evidence statements made by the archdiocese during mediation.

But Randa rejected that request, saying communication in mediation was protected, except in cases where it's needed to "prevent a manifest injustice of sufficient magnitude" to outweigh the confidentiality protection, and where the dispute differs from the one that was mediated. He ruled that the disputes in mediation and the claim were essentially the same.

As part of his decision, Randa noted that Eva Soeka, who directs Marquette University's Center for Dispute Resolution Education and designed the archdiocese's mediation system, chaired the committee in the 1990s that drafted the statue that protects statements made in mediation. He cited an affidavit by Soeka saying essentially that any use of otherwise privileged mediation evidence to invalidate a settlement agreement would violate the statute.

Finnegan took issue with Soeka's assertion in the affidavit, which was submitted by the archdiocese, saying it violates the spirit of the law.

"She set up the system, and then put this affidavit into court to protect that system," Finnegan said. "Under this interpretation, it doesn't matter if someone in mediation was lied to, cheated, deceived or taken advantage of. That information can never come into court."

Randa's decision is the latest in a series of rulings that have favored the archdiocese over creditors in its bankruptcy. He ruled in July that forcing the archdiocese to tap any of the $53 million it holds in a cemetery trust to pay for abuse settlements would violate its free exercise of religion under the First Amendment and a federal law aimed at protecting religious freedom. And later he refused to recuse himself from that case after attorneys for creditors objected. Those issues are now on appeal.

Last month, Randa granted a request by the archdiocese for a stay in a lawsuit involving its insurers so the two sides could enter mediation. Creditors had objected because they were not included in those talks.

The archdiocese filed for Chapter 11 bankruptcy protection in 2011, saying it was the only way to adequately compensate all victims and continue its ministries. Victims accuse the archdiocese of defrauding them by moving problem priests from parish to parish without telling families and protecting offenders for decades.

The archdiocese has filed motions objecting to virtually all of the claims, saying they are beyond the statute of limitations for fraud, involve religious order priests and others not directly employed by the archdiocese, and involve victims who signed prior settlements or lack evidence supporting the accusation of fraud.