Family of Witness against Priest Breaks Silence
By Joseph A. Slobodzian

October 23, 2013

http://www.philly.com/philly/news/20131024_Family_of_witness_against_priest_breaks_its_silence.html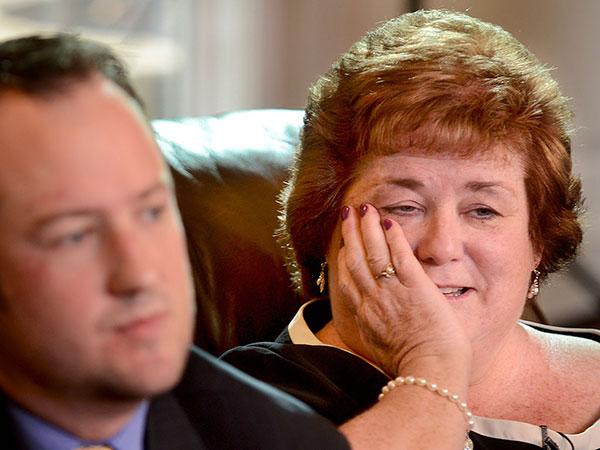 Deborah McIlmail talks about her son Sean and the child sex-abuse charges against former Philadelphia Catholic priest Robert L. Brennan following Sean's death. The 26-year-old was found dead of what was ruled an accidental drug overdose. He had claimed that Brennan sexually abused him from 1998 to 2001.



Sean Patrick McIlmail kept his secret for 12 years as it chewed away at him and as his close-knit family watched him descend into mental illness and drug abuse.

On Wednesday - four days after they buried the 26-year-old - his parents, brother, and sister decided the time for secrets was over.

In an interview at their lawyer's Bucks County home, McIlmail's parents, older brother, and younger sister confirmed it was Sean who accused former Philadelphia Catholic priest Robert L. Brennan of sexually molesting him over four years beginning when he was an 11-year-old altar boy.

Sean's death was still painfully fresh for the McIlmails. But so was the need to try to complete what Sean started by making his complaint against the 75-year-old priest.

Sean's mother, Deborah McIlmail, 57, recalled Sean recently telling his father he wanted to end the sexual abuse of children: "Stop calling me a hero. I just want this to not happen."

Brennan's prosecution was called off Wednesday after McIlmail's death Oct. 13 from an accidental drug overdose.

Philadelphia District Attorney Seth Williams made it official and again praised "the bravery Sean displayed in coming forward to bring these crimes to light. His courage should serve as an inspiration to us all."

Marci A. Hamilton, the McIlmails' lawyer, said McIlmail was found dead in a car in Kensington, two days after he left his family's Willow Grove home for the evening.

Sean was to have testified at Brennan's preliminary hearing on sex-assault charges last Thursday, and the McIlmails insist he was prepared to do so and don't believe the hearing had anything to do with his death.

"A month or so ago, he actually said, 'I'm ready for my name to be put out there,' " recalled his sister, Kaitlyn McIlmail, 24. "I think he thought if other people could see his face and his name and recognize his courage, that maybe they too would get the ability within themselves to come forward."

Deborah McIlmail said that was why they agreed to be interviewed: to encourage other victims to press charges.

Two Philadelphia grand juries have described Brennan as a serial sexual predator who molested more than a score of boys as he was moved from one Philadelphia-area parish to another over 15 years. Furthermore, Brennan has been named in at least one civil lawsuit filed against him and the archdiocese alleging sexual abuse.

But until last month, after Sean McIlmail agreed to press charges, all the allegations against Brennan were too old to prosecute.

Brennan's attorney, Trevan Borum, said Wednesday's announcement was "sad for everyone. It never should have happened. We are also disappointed that Father Brennan won't get the chance to vindicate his name in court in a trial."

"This is dreadfully sad," said David Clohessy, director of SNAP in St. Louis, the Survivors Network of those Abused by Priests. "A predator priest walks free and kids are at risk. Despite Father Robert Brennan's age, we still feel he is dangerous."

The McIlmails were living in Rhawnhurst and active in church activities at Resurrection of Our Lord Church when they met Brennan.

It was November 1993, and what the McIlmails and other parishioners did not know was that Brennan had already logged at least five years of complaints about inappropriate conduct around boys, four psychological evaluations, and several stays at St. John Vianney, the church's Downingtown hospital for clergy with sex and drug problems.

"As a mother, I always had an instinct that there was something about this man I couldn't put my finger on," Deborah McIlmail said. "I didn't ever think it had anything to do with child abuse."

Both her sons, Michael P., now 28, and Sean were altar boys and accompanied her to parish activities.

McIlmail said that when Brennan's name appeared in the 2005 Philadelphia grand jury report, she and her husband questioned their sons. Both boys denied any inappropriate contact by Brennan.

Michael thrived in school and college and Sean did well enough to get a partial scholarship to high school and earn a degree in criminal justice at La Salle University.

Emotionally, however, McIlmail said, her younger son was deteriorating.

He began smoking at 11 and sometimes had $10 or $20 in cash from an unknown source. Drug use followed.

After La Salle, she said, Sean couldn't find a job and collapsed. He began therapy and was diagnosed with post-traumatic stress disorder. A social worker, she helped him fill out papers to get Social Security disability benefits.

But it was not until last October that Sean finally told her Brennan had molested him.

For the first time, McIlmail said, her son's decline made sense. By January, Sean wanted to press criminal charges and he called the archdiocese and later talked to the District Attorney's Office.

The McIlmails still call themselves "devout Irish Catholics," but they no longer attend church.

Sean's father, Michael W., 57, whose brother is a priest, put a note in the collection basket saying he would no longer give money to the church. They are now getting involved in groups advocating for sexual-abuse victims.

Deborah McIlmail recalled Sean recently told his father: " 'Dad, he took my innocence from me before I even knew what innocence was.' "