Church Wavers on Child Sex Scandals in Pope's Homeland
By Simeon Tegel
The Globalpost
October 23, 2013

http://www.globalpost.com/dispatch/news/regions/americas/peru/131022/catholic-church-pedophilia-priests-scandals-latin-america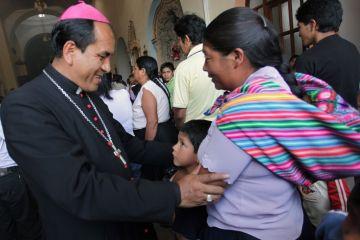 Gabino Miranda, then auxiliary bishop in southeastern Peru. Miranda has been defrocked and on the run after allegations he sexually abused children.



LIMA, Peru — Pope Francis' promise of a more humble, tolerant Catholic Church may have earned rave reviews around the world, but in Latin America, a string of child sex scandals has left some wondering what's really changed in the Vatican.

Along with landmark gestures such as dressing simply, publicly kissing followers' feet and refusing to condemn gays, Francis has also vowed to punish pedophile priests.

Yet seven months into his papacy, the church's questionable handling of child molestation cases in Argentina, Chile, the Dominican Republic and Peru is calling that commitment into doubt.

Campaigners say it may be no coincidence that the scandals have occurred in Latin America, the world's most Catholic region, given the influence wielded here by an often conservative clergy.

In the Dominican Republic, the Vatican's envoy, Josef Wesolowski, was secretly fired in August for allegedly paying underage boys for sex.

In Peru, an auxiliary bishop, Gabino Miranda, has been on the run for more than a month since child sex allegations surfaced. He is alleged to have selected his victims during confession.

He was also secretly sacked by the church. The news only broke by accident, during a media interview with a progressive ex-bishop who mentioned the issue in passing.

In a letter to the Vatican, Miranda denied the allegations but acknowledged being "imprudent." Lima's ultraconservative archbishop, Juan Luis Cipriani, even scolded journalists covering the scandal and demanded "mercy" be shown to Miranda.

More from GlobalPost: Peru's academics battle Vatican for religious freedom

Meanwhile, in Chile, the archbishop of Santiago, Ricardo Ezzati, this month declined to appear before a congressional committee investigating sexual abuse at Catholic children's homes, citing the separation of church and state.

That was despite the fact that the homes in question were part-funded by Chile's government agency for child welfare.

And in Argentina, Father Julio Cesar Grassi is now behind bars after an appeals court in September confirmed his 15-year sentence for sexual assaults on two young boys.

His trial brought a mixed reaction from the Argentine church. One bishop publicly insisted Grassi was innocent. And in response to his conviction, his archdiocese issued a statement highlighting how Grassi had been acquitted on 15 of the 17 charges against him.

For critics, the cases show the church under Francis — who was archbishop of Buenos Aires before becoming Latin America's first pope — still has a long way to go in how it handles pedophile priests.

Jose Andres Murillo, founder of Chilean group Para la Confianza (For Trust), which helps victims, said: "This just demonstrates how there needs to be profound change within the structures of the church.

"It remains full of cardinals and bishops who were named by John Paul II and were sympathetic to his political fight [against communism] but who are pretty reticent when it comes to the rights of children, women or minorities."

Murillo was also outraged by "scandalous and criminal" moves to declare John Paul II a saint next year, despite the late pope's 1999 shelving of a child abuse investigation into his friend, the late Mexican priest Marcial Maciel.

Maciel founded the Legionaries of Christ, a powerful worldwide religious order that now admits he carried out widespread child abuse and has expressed its "sorrow and grief" to his victims.

"The problem is global but there are reasons to think it is particularly bad in Latin America," said Barbara Blaine, of the Chicago-based Survivors Network of those Abused by Priests (SNAP).

"The church plays such an important role in most of Latin America. It can influence people's lives more than in some other parts of the world."

Two urgently needed measures, she said, are full church transparency when handling pedophilia cases and for senior clergy found to have covered up child sex abuse to be disciplined.

Yet the church establishment's response, including since Francis became pontiff, has largely been one of silence.

The Peruvian Episcopal Conference, which gathers together the country's Catholic bishops, issued a statement offering its "prayers" for Miranda's victims and stressing the dedication of the Catholic clergy and faithful to the "poorest and most needy."

But neither the Vatican nor Catholic authorities in Latin America has made any moves to inform the public when a cleric is being investigated.

Emptying pews

With 425 million believers, some 39 percent of the global total, Latin America remains easily the world's most Catholic region, according to the Pew Research Center.

Nevertheless, the church has been hemorrhaging followers here, many to evangelical denominations.

More from GlobalPost: Evangelicals challenge Catholic Church's dominance in Brazil

Now just 72 percent of residents in Latin America and the Caribbean describe themselves as Catholic, compared with 90 percent a century ago.