Archbishop Carlson Named in Child Sex Abuse Lawsuit
KMOX
October 30, 2013

http://stlouis.cbslocal.com/2013/10/30/archbishop-carlson-named-in-child-sex-abuse-lawsuit/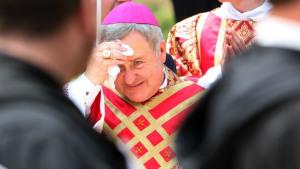 The Most Reverend Robert Carlson wipes his forehead as he battles the 90 degree heat during the Procession of Bishops before becoming the ninth Roman Catholic Archbishop of St. Louis at the Cathedral Basilica of Saint Louis in St. Louis on June 10, 2009. St. Louis will be Carlson's fourth diocese; he most recently served as the bishop of Saginaw, Mich.



[lawsuit and documents]

ST. LOUIS (KMOX) - St. Louis Archbishop Robert Carlson has been named in a civil lawsuit filed in Minneapolis and St. Paul, Minn. accusing him of covering up a child sex abuse case when he was an assistant to a St. Paul archbishop in the 1980s.

The lawsuit claims Fr. Carlson was one of four top officials at the Twin Cities diocese who knew that Fr. Robert Thurner had admitted buying liquor for a 16-year old boy and then sexually abusing him.

"Instead of reporting it to law enforcement as he was required to do, he made a choice to conceal it and allow Thurner to go to other parishes," Jeff Anderson, an attorney for the plaintiff in the case, alleges.

According to Anderson, Carlson was considered a mandatory reporter when the sexual assault occurred in 1982, making him legally required to tell police about the allegations.

The suit claims the accused priest was transferred to another parish where he allegedly abused an 8-year-old girl. Carlson is expected to be deposed in this case.

The St. Louis Archdiocese did not return calls seeking comment.