Archdiocese to Name Abusive Priests; Critics Skeptical
By Emily Gurnon
Pioneer Press
November 11, 2013

http://www.twincities.com/localnews/ci_24499013/archdiocese-name-priests-accused-sexually-abusing-minors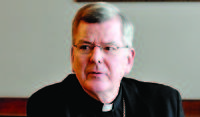 Archbishop John C. Nienstedt (Pioneer Press file photo: John Doman)



Advocates for child sexual abuse victims responded with deep skepticism Monday to Roman Catholic Archbishop John Nienstedt's promise to release the names of abusive priests.

Nienstedt said in a statement Monday that the Archdiocese of St. Paul and Minneapolis would disclose "the names, locations and status of priests who are currently living in the archdiocese, and who we know have substantiated claims against them of committing sexual abuse against minors."

The names will be released this month, Nienstedt said.

Attorney Mike Finnegan, who has represented several victims of clergy sexual abuse, said he doubts the list will include all 33 priests who church officials said in 2004 were "credibly accused" of sexually abusing children.

And there is no reason for delay, Finnegan said.

"My biggest question seeing this is why wait?" he said. "Keeping this list secret for one day, one hour, puts additional kids at risk."

Finnegan also questioned the change in terminology: Did those with "substantiated claims" mean the same as the "credibly accused," the term the archdiocese used beginning in 2004?

In addition, he asked why only living priests would be named and why only those in the archdiocese. That could be an attempt to allow priests in the local archdiocese to move outside its boundaries, Finnegan said.

Leaders of SNAP, the Survivors Network of those Abused by Priests, likewise called the names that Nienstedt plans to release a "partial list."

"There is, of course, no reason to keep hiding any predator priests, whether they are now in Mankato or Morocco, whether they're alive or deceased," said a statement from David Clohessy, national SNAP director, in St. Louis.

Nienstedt qualified the list further, saying the names would be released "on the completion of the independent file review that I ordered in early October ... and upon receipt of permission of the relevant court."

That is an apparent reference to Ramsey County District Judge Gregg Johnson. In the case of alleged abuse victim John Doe 76C, who later revealed himself as Jim Keenan, against the Rev. Thomas Adamson, the judge ordered the archdiocese in 2009 to release its list of 33 "credibly accused" priests to the plaintiff's attorney, Jeff Anderson. The archdiocese did so, but then petitioned the court to seal the list, which Johnson did.

The list came out of a 2004 study commissioned by the U.S. Conference of Catholic Bishops and conducted by John Jay College of Criminal Justice in New York. The study counted victims of clergy sexual abuse over the previous 50 years, with perpetrators' names provided by the dioceses and archdioceses.

Archdiocese spokesman James Accurso did not answer questions Monday about what constituted "substantiated claims."

Regarding its decision to release names only of living predator priests within the diocese, Accurso said,

"We are committed to prudent and ongoing disclosure. Our first concern is for potential victims, so our initial round of disclosure is focused on living priests residing in the archdiocese where we have definitive information."

He also said Johnson's court order to seal the list of "credibly accused" priests "applies to all parties, including the archdiocese."

Nienstedt's announcement came the same day as a Minnesota Public Radio report on priest Clarence Vavra. Vavra admitted to archdiocese officials in 1995 that he sexually abused young boys and teens on the Rosebud Indian Reservation in South Dakota, and nevertheless was put back into active ministry after "treatment," the archbishop said in his statement.

MPR reported that the now-74-year-old, who was ordained in 1965, was transferred 17 times in 38 years. The archdiocese never disclosed his name to the parishes he served or to the larger community.

"In the spirit of offering him a path to healing and redemption, too much trust was placed in the hope of remedying Vavra's egregious behaviors," Nienstedt said.

He said Vavra got a "transitional support payment" of $650 per month after he was removed from ministry. That was to be discontinued when he reached retirement age, but the money kept coming until 2012, Nienstedt said. When the error was found, the payments were stopped, the archbishop said.

Reached by phone Monday at his home in New Prague, Vavra declined to comment.

According to the Official Catholic Directory, Vavra served at St. Rose of Lima in Roseville, St. Matthew's in St. Paul, the Church of St. Philip in Minneapolis, the Church of St. Peter in North St. Paul, St. Jerome's and Holy Redeemer in Maplewood and Guardian Angels in Hastings, which later merged with another parish. He also had stints in New Prague and Rush City, Finnegan said.

This report includes information from the Associated Press. Emily Gurnon can be reached at 651-228-5522.