Pa. Family Who Lost Son Sues Church in Abuse Case
The Ct Post
November 13, 2013

http://www.ctpost.com/news/article/Pa-family-who-lost-son-sues-church-in-abuse-case-4980598.php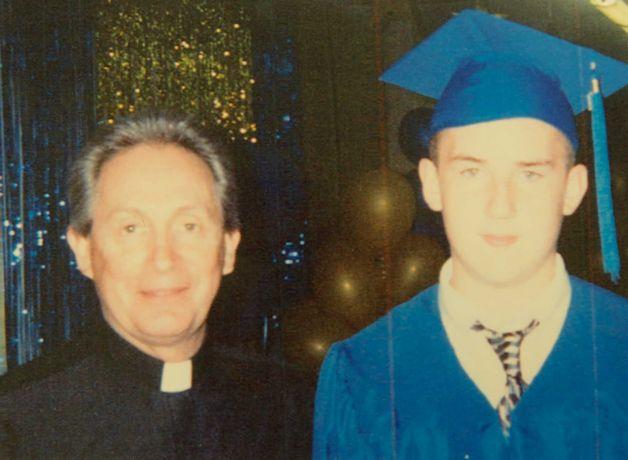 This 2001 photo provided by attorney Marcia Hamilton on behalf of the McIlmail family, shows Sean McIlmail and the Rev. Robert L. Brennan in Philadelphia. Attorneys for the family of Sean McIlmail an alleged priest-abuse victim, announced a wrongful death lawsuit against Roman Catholic church officials on Wednesday. They say the archdiocese moved the Rev. Robert L. Brennan from parish to parish, allowing him to prey on children. McIlmail claimed Brennan abused him for years, beginning at age 11.



PHILADELPHIA (AP) — An alleged priest-abuse victim who died of a drug overdose would still be alive if the Archdiocese of Philadelphia had heeded previous molestation complaints about the cleric, according to a lawsuit filed Wednesday.

The wrongful death complaint filed by the family of Sean McIlmail seeks at least $50,000 in damages. It names the archdiocese, the Rev. Robert L. Brennan and Monsignor William Lynn as defendants.

The family contends that church officials knew of multiple pedophile allegations against Brennan for about 10 years before McIlmail met him at a parish in the Rhawnhurst section of Philadelphia.

McIlmail recently came forward with allegations that the priest abused him for years, beginning at age 11 in 1998. Prosecutors filed rape charges against Brennan in September, but dropped the case weeks later after McIlmail died at age 26.

McIlmail had been in and out of substance abuse treatment programs since graduating from college, and had not been able to hold down a job, attorney Marci Hamilton said.

A church spokesman declined to comment on the lawsuit. Brennan's attorney in the criminal case, Trevan Borum, said previously that the priest had hoped to clear his name at trial.

Borum said Wednesday that it's not yet clear if he will represent Brennan in the civil case.

Lynn, the longtime secretary for clergy, is serving a three- to six-year term for child endangerment for allegedly reassigning predator priests to unsuspecting parishes. He is appealing his conviction.

Lynn's attorney, Thomas Bergstrom, said Wednesday that he had not yet read the lawsuit.