Priest Convicted of Sexually Abusing Young Sisters Steps up
Fermanagh Herald
November 14, 2013

http://fermanaghherald.com/2013/11/priest-convicted-of-sexually-abusing-young-sisters-steps-up/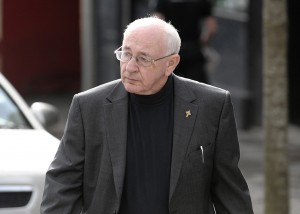 Father Eugene Lewis


A PRIEST who was convicted of sexually abusing three Fermanagh sisters more than 40 years ago is attempting to clear this name.
Fr Eugene Lewis was jailed for four years in September 2010 for 11 counts of indecent assault.
He denied the abuse, which was said to have been carried out in County Fermanagh between 1963 and 1973.
Fr Lewis has already successfully appealed three of the 11 counts he was found guilty of committing in November 2011 and last year the was freed after having his sentence reduced to two years and nine months on foot of this.
Last week senior judges in Belfast refused Fr Lewis' application to go before the Supreme Court on the remaining counts.
However, the priest's solicitors confirmed they will now make a direct petition arguing a point of law of general public importance has been established.
The molestation was alleged to have started when the sisters were aged as young as seven.
At the time Lewis was based at the College of the Society of Missionaries of Africa, also known as the Order of the White Fathers in Blacklion, Co Cavan.
Despite his suggestion that the sisters were motivated by a family conspiracy or compensation claims, a jury at Omagh Crown Court unanimously convicted him at the end of a six-week trial.
Since his conviction the priest continues to maintain his innocence and claims to be the victim of a miscarriage of justice.
One of the points his legal team made during the 2011 appeal was that Fr Lewis suffered prejudice due to excessive delay in bringing a case against him.
His solicitors said that by the time the case came to court his parents had passed away and therefore could offer no assistance to his defence.
Along with the alleged prejudice of a 47 year delay in bringing a prosecution it was contended that contaminated evidence and the admissibility of bad character evidence called the reliability of the guilty verdict into question.
Questions were also raised by his legal team about one accuser who changed from a position of 'forgiveness' to telling her husband in 2007 about the alleged abuse.
Counsel for Lewis claimed there was a 'huge contradiction' between her changed attitude and then travelling down to Dublin months later to pick him up when he flew in from Germany.
During last week's appeal in the Court of Appeal defence solicitors for Fr Eugene Lewis stated that declaring his convictions for abusing one girl unsafe cast doubt over the others.
A three judge panel was told directions to the trial jury on the 'cross admissability' of all complaints rendered each of the guilty verdicts unsafe.
A barrister claimed this raised an issue of 'general public importance' which has never been considered before.
Lord Justice Higgins, rejecting these submissions, said that no relevant point of law had been established and denied leave to appeal the Supreme Court. Despite this Lewis's solicitor pledged to make an appeal for a hearing in London.
Joe McVeigh of KRW Law said, "It is now our intention to petition the UK Supreme Court directly and we would be confident they will give our application a fair wind."